Then end of live lectures? Maybe not yet.
Filed Under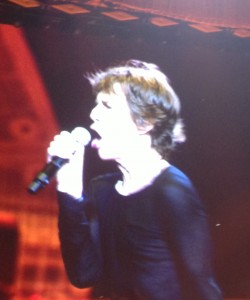 Professor Patrick Henry Winston '65, SM '67, PhD '70
We went to see the Stones the other night, as we always do when they are in town. We just can't miss seeing what Mick Jagger, Keith Richards, Ron Wood, and Charlie Watts are up to.
Then, before my ears stopped ringing the next day, I saw on one of the MIT what's-happening displays something to the effect that live lectures are dead. Maybe if it is said often enough, it will make it true.
I recalled the concert. Of course I could have listened to all those songs as I drove to work at any volume I liked. I could have popped a video into all the fancy electronic toys I keep in the media room. But I didn't. Instead, I spent a lot of money for the welcome privilege of filling my eyes with real photons bouncing off real people, surrounded by about 18,000 other similarly minded fans.
So is the live lecture dead? Not yet, I think. We like the social act of seeing it live with others. We like having singular people in the same room, even if it is a big room.
So in our rush to MOOC everything, maybe we are asking the wrong question. We ask how can we get out stuff out to 10s of thousands or 100s of thousands of people. Instead, maybe we should ask what 100 skills, concepts, and experiences should every MIT student acquire by age 30.
Then, we can ask how we can best use established and emerging technology to deliver those skills, concepts, and experiences.*
The list would include elements every educated MIT graduate should understand at one level or another just because he or she is entitled to wear a Brass Rat. My candidates would include probability and statistics, electromagnetic wave propagation, limits to what can be computed, chemistry of one sort or another, the nature and origins of life, and what makes our species unique, all of which are readily available, but none of which are now required of every MIT student.
But alas, who is to make such a list? Perhaps I should volunteer, but then I think, in rational moments, that I should just consign the idea to the Arco Santi directory.**
* See the What's Next with MITx for more on the subject of web-enabled educational transformation.
** The place where I put romantic ideas that I write up just for fun,
Filed Under