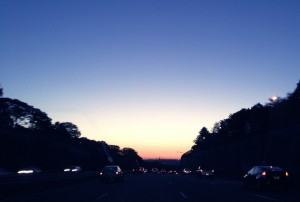 Professor Patrick Henry Winston '65, SM '67, PhD '70
The sky was nicely blue when I drove into Cambridge the other day. "Rayleigh scattering," I said to myself, and remembered that this is the golden anniversary of the 8.03 quiz from hell in 1962.
I had showed up a year before, soon to be scared to death. Because I came from a high school located in a small town in Illinois, I was easily intimidated. Some of my fellow students seemed to have gone to name-brand prep schools; others went to big city schools with science tracks. For the first several weeks, they all seemed to understand everything, and I felt like I understood nothing.1
As it turned out, fear was good, because I developed good study habits and they didn't. They hit a wall in six weeks, but I kept going.
Then, when we were sophomores, came the 8.03 quiz from hell. We all had to take four physics subjects in those days, not just the two required today.
The subject was Rayleigh scattering. I had studied hard, but still felt the quiz was difficult.
The details have faded a little, but as I remember it, when my recitation instructor handed me my graded quiz, I saw that I got 27 out of 100.
I cracked. "It has taken more than a year, but I finally have been found out." I said to myself. "I will fail 8.03. My father will make me go back to East Peoria. I will try to get into one of the community colleges, majoring in who knows what," I thought. "I will be a disgrace. I will never be able to marry, or have a family." Finally, worst of all, "He will make me go to law school."
Then, my instructor announced that the class average was 18, so I was one or two standard deviations above.2 It was just a 30 second roller coaster ride. Life was good again.
1 East Peoria Community High School was a great public school, actually, with inspiring teachers, but it took a while before I realized that.
2 The physics instructors were so mad about our performance, they gave us essentially the same quiz again, two weeks later. Some remember the class average going down. Decades later, I learned that the quiz was made up by physics professors who were not teaching the subject, so our bad performance had a good explanation.
Filed Under