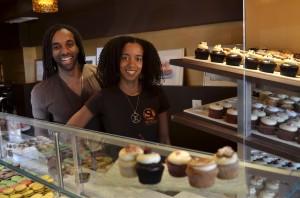 MIT alumni may be accustomed to winning contests, but Cupcake Wars? A brother-sister team, both chemical engineering grads, won a $10,000 first-place prize on a recent television episode of Cupcake Wars on Food Network.
The pair, Winnette McIntosh Ambrose '98 and her brother Timothy McIntosh '08, operate Sweet Tooth Lobby in Washington DC. The "lobby" in the name echoes familiar MIT gathering places like Lobby 7 and Lobby 10. Their treats range from French, gluten-free macaroons to gourmet cupcakes and European-style hot chocolate.
In a National Public Radio interview, McIntosh Ambrose described how they got started:
"First of all, we're born and raised in Trinidad and Tobago. We both came to the U.S. to study chemical engineering at MIT. And I had the opportunity, while I was doing my undergrad at MIT, to double-major in French language and literature, which took me to Paris at the Sorbonne. And that is where I became really mesmerized, captivated by the beauty, the craft of French patisserie."
While she earned a PhD in biomedical engineering from Johns Hopkins University and then worked in the medical technology industry, she taught herself to bake. About two years ago, she called on her brother to join her efforts in DC and, in 2011, they started their business.
Try their winning recipe from the Feb. 5, 2012, Cupcake Wars episode focusing on Chinese New Year:
Filed Under