Guest blogger: John McGoldrick '73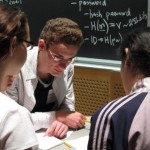 Do you want to be a part of the celebration of MIT's 150th? The 5th annual Science Trivia Challenge needs your help! The Challenge, organized for the Cambridge Science Festival by the MIT Club of Boston, affords an opportunity to showcase and encourage the next generation of aspiring young engineers and scientists.
The contest is always a vibrant and fun event for the participants, and our winning teams receive the unique opportunity to personally interact with a prominent scientist—three teams will enjoy a dinner with one of MIT's own Nobel Laureates! To date, we have sponsored dinners for approximately 75 contestants.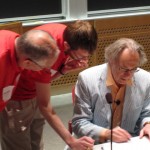 A great deal of raw material is required to develop approximately 100 high-quality questions each year. Your contribution of a question can help immensely to support the Challenge. And, if your question is used, you could win a prize!
Trivia facts should be geared toward a general audience (no PhDs required) in one of two divisions: Youth (for middle- and high-school students) and Open (for those with introductory college-level science knowledge).
Any scientific discipline or topic is fair game, including (but not limited to) biology, chemistry, physics, mathematics, astronomy, computer science, earth sciences, inventions, technology, medicine, history of science, and local contributions to science. Questions may be multiple choice, short answer, or matching.
View sample questions from past events then contribute a question or suggest a topic online.
Related article Science Trivia Winners Enjoy the Meal of a Lifetime—with Nobel Laureate Wolfgang Ketterle
Filed Under