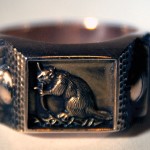 Many brass rats have been lost over the years and reunited with the owners—either through intrepid individuals who followed a trail of leads or returned them to MIT where staff helped reunite the class rings with their owners.
A new brass rat mystery has appeared—a graduate ring lost in Vietnam in 1968— and the Office for the Dean of Student Life (DSL) has launched a search. When investigations of databases and ring companies did not solve the problem, they made this video to enlist the help of alumni in finding the owner.
The mystery
In March, a woman from Virginia contacted Bob Ferrara '67, who works in DSL, with this message:
"I have an MIT class ring with initials ... returned with my brother's (US Marine) effects in 1968," she wrote. "Brother in Vietnam 1 month before killed on March 16. Think ring owner gave him ring for safekeeping possibly as he was dying. Would like to return ring to family if possible."
Please take a look at the video and then visit the
Vietnam Ring Mystery page
to suggest alumni or groups that might be able to help.
If this soldier died during service in Vietnam, MIT will honor this sacrifice on the wall of Lobby 10, along with the other MIT alumni recognized for their service to the nation during wartime.
Did you or do you serve in the military? If so, you are invited to join the MIT Military Alumni Association.
Filed Under