On October 23, the
Boston Globe
unveiled its
annual list of the top 100 women-led businesses
in Massachusetts.
And similar to past years
, MIT alumnae had a strong presence on the 2015 list.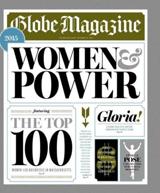 The 14th annual list is a partnership between the Globe and the Commonwealth Institute, a non-profit group focuses advancing businesswomen in leadership positions. At least six MIT alumnae were named to the list—an increase from five in 2014.
According to the Globe, the rankings factor in revenue, operating budget, and other variables, including workplace and management diversity, innovative projects, and the number of full-time employees in Massachusetts. All leaders were in place at the end of 2014.
Check out the MIT alumnae on the list below and read a related story about each alumna. Then view the full list of the top 100 woman-led businesses from the Boston Globe.
Is there an alumna who made the
Globe
's list that we did not mention? Let us know if the comments below or on 
Facebook
 or
Twitter
.
Filed Under