The Boston Globe Magazine recently praised the MIT Intercollegiate Athletics program, citing its "athletics-affirming but recruitment-light culture." The publication went on to say, "Despite refusing to put a thumb on the scale for athlete applications, MIT has produced a successful sports program that enhances, rather than detracts from, its academic reputation."
Slice of MIT has written in the past about the caliber of both the Institute's athletics program and its student-athletes. Read on for a sampling of stories about how sports have been playing into the holistic student experience for decades.
10 questions with an MIT Olympian
"Competitive sports meshes very well with a competitive educational environment like MIT," says Alexis Photiades '91, SM '92. While earning economics and management degrees, he skied in two Olympic Games for Cyprus, qualified for NCAA nationals with MIT's ski team, and also ranked ninth in the United States in NCAA men's singles tennis.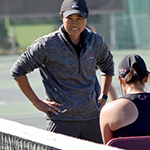 Tennis coach teaches her MIT experience
Carol Matsuzaki '95, '96, today an associate professor and MIT's tennis coach, double-majored in biology and literature at MIT (with encouragement from the high school math teacher whose story was told in the film Stand and Deliver). In 2018, Matsuzaki was named the Wilson ITA Division III National Coach of the Year.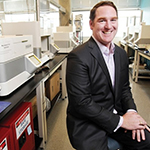 Football standout tackles tumors
Brad Gray '98 majored in chemical engineering, lived at Lambda Chi Alpha, and played defensive tackle at MIT. In UROP labs, he helped manufacture genetically engineered protein-therapy drugs in bioreactors; in the summers, he interned with alumni at drug companies.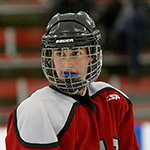 How is emergency medicine like athletics?
Ask Stephanie Brenman '09. She played soccer, lacrosse, and ice hockey at MIT while studying brain and cognitive sciences. She went on to earn her MD degree from Stanford Medical school and worked in an ER, treating patients "with everything from ingrown toenails to gunshot wounds and cardiac arrests."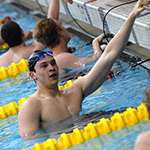 Just keep swimming
Despite his talent in the sport, swimming didn't factor into college selection for Wyatt Ubellacker '13 SM '16, though MIT's strong team was "a plus" for the mechanical engineering major. At MIT, he earned spots on the NCAA All American and NEWMAC All-Conference teams and qualified for his first Olympic Trials.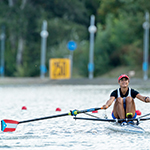 From rowing on the Charles to rowing for Puerto Rico
Veronica Toro '16, who had never rowed until her first year at MIT, recently became the first Puerto Rican female to qualify for the Pan American Games. "I would train with the MIT team in the morning and then on my own in the afternoons," she says. "It was a lot of work, and I was trying to get into medical school so I had to keep my grades really high, but it was something that I loved."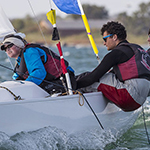 Solving equations to design safer ships
A varsity sailing team member throughout his undergraduate years, David Larson '16, SM '18 still spends much of his time thinking about nautical matters. As a PhD student in MIT's Laboratory for Ship and Platform Flows, he works on modeling ship-wave interactions to understand how ships behave in severe storms.
---
Photo (top): MIT's varsity football team. Credit: DSPics.com
Filed Under