10 Questions with MIT Olympian Alexis Photiades '91, SM '92
Filed Under
During Alexis Photiades' five years at MIT, he earned two degrees and competed in three skiing events in two Olympic Games for Cyprus. Photiades was also a member of MIT's ski team, qualifying for NCAA Nationals, and captained the tennis team, where he was ranked ninth in the country in NCAA men's singles. His coach called him "Mr. Everything."
The only MIT alumnus to participate in three Winter Games (he also competed as a 16-year-old in 1984), Photiades now runs a beverage distribution company based in Cyprus that operates throughout Eastern Europe. He answered 10 questions from Slice of MIT about his lack of sleep during college, life as a freshman Olympian, and similarities between the Games and MIT.
What's more difficult—graduating from MIT or qualifying for the Olympics?
"Both were difficult, even though qualifying for the Cyprus team is far easier than qualifying for the team of a large country. But graduating from MIT was more precious to me. The experience at MIT has been more impactful in my life. The overall experience shaped my character a lot more than anything else I've ever done."
You participated in two Olympics while you were a full-time MIT student. How difficult was it to balance training and studying?
"I didn't sleep much. In 1988, my first year at MIT, I was taking course 6.001 as an elective, training with the MIT ski team in New Hampshire, and playing tennis. I was trying to balance all of these things. When I went to the Olympics, I took my books to study. I ended up not doing any work because I was so overwhelmed."
How supportive were your fellow students?
"The people in my dorm, Conner House, were very excited. They wrote me cards and postcards. When I got back to campus, they had a party for me. It was really nice. I had a hard time catching up with my studies after the Games. The teaching assistants really spent a lot of extra time helping me get back to speed."
I didn't expect to win any medals. I went for it with nothing to lose and nothing to prove. I was very happy with the result.
2006 Olympian Pat Antaki '84 compared the Olympic Village to an MIT dorm. Do you agree?
"That's a good analogy. Everyone in the village is competitive, ambitious, and focused on their goals. Although I would say there is more camaraderie at MIT than in the Olympic Village."
What's more difficult: Competing in the actual Olympic Games or the work it takes just to qualify?
"Qualifying was tough, at least for me, and I was very proud when I finally made the team. But competing in the Olympics was something completely different. My first Olympic race, I was 16 years old. I'll never forget looking around, seeing the media, plus the big, tough ski slopes and the best competitors in the world. Cyprus is a small country—the Olympics was my first big race."
Of your three Olympic Games, which one stands out as your favorite?
"I was quite happy with my performance in 1992. I didn't expect to win any medals coming from Cyprus but I wanted to minimize my difference and be as competitive as possible. I went for it with nothing to lose and nothing to prove. I was very happy with the result." (Photiades had personal Olympic-best times in the Super G, Slalom, and Giant Slalom in 1992.)
Competing in one Olympics seems like a draining experience, physically and emotionally. What made you return for two more?
"It never crossed my mind to say no. In 1992 I had also qualified for the NCAA Nationals, but when I was asked by the Cyprus coach to return for the Olympics it was an easy choice. It was tough to manage everything, but I never considered saying no."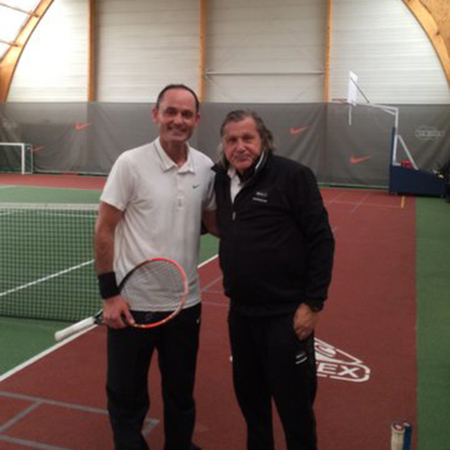 How did MIT help you prepare for the Olympics?
"I always remember the MIT routine, like the problem sets that you have to do every week. Each problem set pushed you to the limit. And there's no other way to excel without pushing your limits. That is the philosophy at MIT."
What advice do you have for MIT students who are balancing coursework with athletics or other activities? You seem like an expert.
"The more you have to do in your daily schedule, the better programmed, more efficient, and more effective you become. Competitive sports meshes very well with a competitive educational environment like MIT. I didn't have too much free time at MIT but it was some of the best years of my life."
Finally, you also represented Cyprus in the Davis Cup international tennis tournaments. What's your favorite sports, tennis or skiing?
"These days, I'm more of a tennis guy. My age is getting in the way of skiing. But if I look back, I really can't say. They both played big roles in my life."
This story was originally published on February 13, 2014.
Filed Under