This is the first in a series of posts from MIT students currently involved in the
Student/Alumni Externship Program
, which connects current students to alumni in workplaces worldwide during MIT's Independent Activities Period.
Alumni, learn how to get involved
.
Guest blogger: Zach Tribbett '12, electrical engineering and computer science major Alumnus host: Steven Tamm '97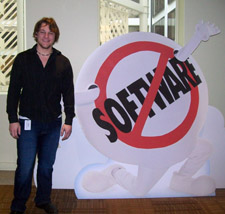 Hey everyone! My name is Zach Tribbett, and I'm externing at Salesforce.com, an enterprise cloud-computing company. It's the first week, but it's been pretty nice so far. The company is located in San Francisco, right in the financial district with amazing views of the bay—which is a good thing when you spend most of your day looking at a computer screen. My job out here is working as a developer, and I have to say that it was awesome to see their development center with all the computers, snacks, people, and space.
My manager won't be here until next week so right now they have me taking information from various files and putting it into a database. Not too bad but in order for me to do this, I need Internet access and I can't get that at work without a "work-designated" computer. So, I'm sort of in this infinite loop (pun intended). For now, there isn't too much to report about what it is I'm doing. I will say that the people at work are amazing. Everyone is extremely nice, relaxed, and social. It's really refreshing.
I guess I'll take a moment and talk about life outside of work. I've been here only a few days, but it's been pretty amazing. I've met some really awesome people just by chance and they showed me around the city and introduced me to some of the great social hangouts. I've met up with some friends whom I hadn't seen in a long time. And, I tried one of those famous In-N-Out Burgers, which really are amazing. They may be oversold by California folk, but they are tasty.
So far, it's been wonderful. No problems with the exception of Internet access and people on vacation, but the holidays just finished. As a final note, the two things I've noticed, as an "East-Coast kid," are that
people eat SUPER healthy out here
Starbucks is everywhere, as in three or four on one block. Now if only I liked Starbucks. . . .I miss Dunkin' Donuts!
Thanks for reading, and I hope you enjoyed!
~Zach
*Editor's note: Zach will blog again at the end of his externship. Stay tuned to hear how it all turned out for him (and perhaps just how many In-N-Out Burgers he managed to consume).
Filed Under