Big improvements at MIT often bring big response—think of the excitement around
the construction of MIT.nano
or the press that surrounded the opening
of the Ray and Maria Stata Center
. But sometimes big changes around MIT don't spur a reaction—and that's a good thing. "If we don't hear anything that means everything is going great," explains Ash Dyer '06, outgoing IT committee chair for the
Association of Independent Living Groups (AILG)
. Dyer is referring to the response from a major infrastructure overhaul that changed the way students off campus access the Internet and MIT.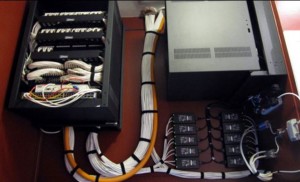 In 2008, independent living groups were able to access MIT's network on campus and the Internet from their houses, but the connection wasn't ideal. MIT provided a fast network for students, but Dyer says many living groups were still relying on consumer solutions and sometimes phone lines to get to that same network. "We realized there was a big gap between life on campus and life off campus. A big part of that gap was telecom," Dyer remembers. To combat this gap, the AILG collaborated with the Independent Residence Development Fund (IRDF) to connect 26 Fraternities, Sororities, and Independent Living Groups (FSILGs) to a modernized network with the installation of high bandwidth fiber.
To do this, AILG worked with MIT Information Systems and Technology (IS&T) to build a dark fiber network—which is a privately owned network—that would serve students in FSILGs the same high bandwidth network that campus residents were getting.  A project of this magnitude proved costly, and Bob Ferrara '67, senior director for the Division of Student Life, explains that the partnership between AILG and IRDF was essential to move the project forward. "We arranged it so that IRDF financed the project, with the houses paying back the fund over time," he explains. The cost of renovating the network infrastructure in 26 homes around Boston was covered 75 percent by IRDF, which provides loans and grants to FSILGs, with houses paying back the rest of the cost.
The project was finally completed in the summer of 2015—with some surprises along the way. "When we came through, a lot of the houses said they wanted to cut their phone lines," Dyer says, but they soon realized that older fire alarm systems in the houses still relied on the lines. While updating the Internet connections of these houses, AILG also updated the fire alarm systems. "The houses are much safer now," says Dyer. And Internet access is much faster with a 1Gb/sec fiber connection.
Dyer says in the past, FSILGs tasked students with IT duties to handle the network connections they built themselves; now if students have an issue, MIT can help. At the completion of the project, AILG also helped develop a Network Management Program that will insure the investment in the houses will continue to be productive, giving the AILG a direct line to MIT for support.
Filed Under