Beauty Queen Alumna Teaches Science with a Tiara on TV
Filed Under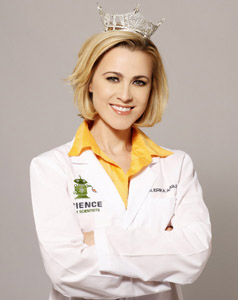 You may well remember hearing about Erika Ebbel '04, who won the title of Miss Massachusetts when she was an MIT student and competed in the 2004 Miss America Pageant. Indeed, her story ranks as one of the most popular articles of all time on the Alumni Association website.
So what has she been up to since winning her crown? Plenty.
After earning a degree in chemistry from the Institute, she went on to complete a PhD in biochemistry from Boston University School of Medicine in 2012. In 2010, she changed her name to Erika Ebbel Angle after marrying iRobot cofounder Colin Angle '89, SM '91. These days, she is the founder and CEO of the Boston-based nonprofit Science from Scientists, a STEM enrichment program for elementary and middle school students. Science from Scientists offers free, hands-on science curriculum assistance to local schools, clubs, and other organizations as well as some fee-based services. Ebbel Angle actually founded what would become Science from Scientists in 2002 as the public-service platform she promoted through the pageant.
The nonprofit works with about 2,000 students each year. As a way to further reach young learners, Ebbel Angle is now starring in "The Dr. Erika Show." Filmed in front of a live studio audience, the show is presented as a parody of daytime talk shows as a way to keep the lessons fun. In each episode, Dr. Erika wears a lab coat and a tiara and helps students understand why their science fair experiments went awry. Watch the trailer below, and catch episodes on electrostatics and the solar system online. Or, if you live in the Greater Boston area, watch them on Comcast on Demand (via Get Local > News and Public Affairs > Science on Demand).
STEM education is not Ebbel Angle's only endeavor. While at BU, her research focused on the implementation of novel technologies in the discovery of biomarkers in Huntington's Disease, and she's in the process of forming the biotech start-up Counterpoint Health Solutions, which is aimed at discovering unique early prediction, disease progression, and therapeutic biomarkers in diseases such as Huntington's.
This is also not her first time on TV. She has appeared on Nova and TLC in shows such as "The Secret Lives of Scientists and Engineers." Learn more about Ebbel Angle.
Filed Under