Alumni Invited to Join MIT Strong Marathon Team to Honor Officer Collier
Filed Under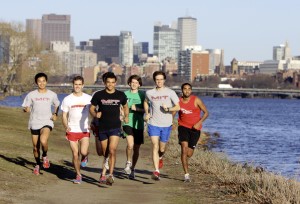 Guest blogger: Tom Gearty, editorial director, Resource Development
This year's Boston Marathon will mark the first anniversary of last April's finish-line bombings and the murder of MIT Police Officer Sean Collier, who was killed days after the marathon in his patrol car outside the Stata Center as he watched over the campus.
As the first anniversary of the tragedies approaches, a group of MIT staff has received a set of official entries to the Boston Marathon and is seeking alumni to join an MIT Strong Marathon team to represent the Institute at the race on April 21.
The team will honor the life of MIT Police Officer Sean Collier and raise money for the Collier Fund at MIT.
You can apply—by January 20—for one of the 25 available entries, if you meet this criteria:
Be a member of the extended Institute community—students, faculty, staff, and alumni.
Be currently training at a level to safely complete the Boston Marathon on April 21 in six hours or less.
Pay the Boston Marathon registration fee and any other expenses associated with traveling to and running the marathon
Commit to raising a minimum of $4,000 for the Collier Fund at MIT, the same fundraising minimum for organizations in the Boston Athletic Association official charity program.
For more information, read the
MIT News article
. To apply to be part of the team—or to donate, visit
mitstrong.mit.edu
.
Filed Under