Alumna Andrea Ghez Wins Nobel Prize for Discoveries in Black Hole Physics
Filed Under
This month, astrophysicist Andrea Ghez '87 became the fourth woman to win the Nobel Prize in Physics—and at least the 37th Nobel laureate to hold a degree from MIT (see full list at the end of this story). She is MIT's second alumna to win a Nobel (following last year's honoring of economist Esther Duflo PhD '99) and the first alumna with an undergraduate degree.
Ghez majored in physics as an MIT undergraduate before earning a PhD from CalTech, and is now a faculty member at the University of California at Los Angeles. She shares half of the 2020 prize with Reinhard Genzel, a professor emeritus at the University of California at Berkeley; both are cited for leading teams of astronomers whose examinations of the brightest stars in a region of the Milky Way called Sagittarius A* have provided "the most convincing evidence yet of a supermassive compact object at the center of our galaxy."
The morning she learned of the honor, Ghez spoke with Nobel Media about her passion for research, marveling, "It amazes me every time we go to the telescope to think about, 'Here is this light that we're capturing that's been on a journey for 26,000 years.'"
---
In this recording of a phone call with Nobel Media, Ghez reacts to the news of her Nobel win.
---
The other half of the 2020 Nobel Prize in Physics was awarded to the University of Oxford's Roger Penrose, "for the discovery that black hole formation is a robust prediction of the general theory of relativity."
According to the press release issued by the Royal Swedish Academy of Sciences on October 8, "Using the world's largest telescopes, Genzel and Ghez developed methods to see through the huge clouds of interstellar gas and dust to the center of the Milky Way. Stretching the limits of technology, they refined new techniques to compensate for distortions caused by the Earth's atmosphere, building unique instruments and committing themselves to long-term research."
In a Scientific American story titled "How Andrea Ghez Won the Nobel for an Experiment Nobody Thought Would Work," Ghez's longtime colleague Hilton Lewis wrote: "Andrea is a great scientist; not only does she do the science, she molds events to make it possible. In addition to doing research, she has created the UCLA Galactic Center Group to coordinate research and technical developments. And she imbued a cohort of graduate students and postdoctoral fellows with her passion and thrill of the chase."
In its announcement about the award, the MIT News Office quotes Nergis Mavalvala, dean of MIT's School of Science and the Curtis and Kathleen Marble Professor of Astrophysics: "All of her career, Andrea has been an awe-inspiring scientist and educator, and role model for women and girls. And now, as a Nobel laureate, her groundbreaking science and her story are sure to reach even farther and inspire a generation of young women to pursue careers in science."
---
In a video created for Quanta Magazine last July, Ghez explains how tracking the movement of stars can reveal the existence of a supermassive black hole:
---
Learn more: MIT and the Nobel Prize
Visit the MIT Institutional Research website for a list of more than 90 Nobel Prize winners (including faculty members and researchers) affiliated with MIT.
Read about other MIT alumni who recently became Nobel laureates: Esther Duflo PhD '99 in 2019, William D. Nordhaus PhD '67 in 2018, and Michael Rosbash PhD '71 and Rainer Weiss '55, PhD '62 in 2017.
A recent Forbes ranking counts MIT among the top 10 universities with the most undergraduate alumni Nobel laureates.
See the graphic below for a full list of all MIT alums (with undergraduate and graduate degrees) who have won the Nobel. The list does not include MIT alumni associated with Nobel-honored organizations—including but not limited to Wei M. Hao SM '82 and Kevin Trenberth ScD '72, who were among the many contributors to the Intergovernmental Panel on Climate Change, which was awarded a share of the 2007 Nobel Peace Prize.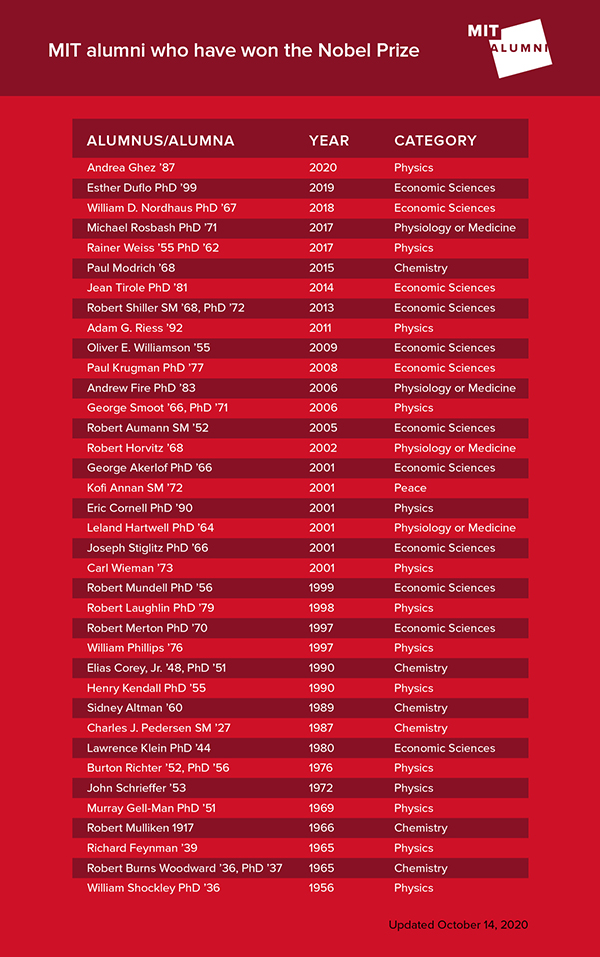 ---
Portrait of Andrea Ghez (top) by Elena Zhukova/University of California.
Filed Under