Economist Esther Duflo Is First MIT Alumna to Win Nobel Prize
Filed Under
Esther Duflo PhD '99, the Abdul Latif Jameel Professor of Poverty Alleviation and Development Economics, was awarded a share of the 2019 Nobel Memorial Prize in Economic Sciences, the Royal Swedish Academy of Sciences announced on October 14. Duflo is the first MIT alumna to receive a Nobel Prize and, at age 46, the youngest ever economics laureate.
According to the Nobel Prize website, the Sveriges Riksbank Prize in Economic Sciences in Memory of Alfred Nobel was divided equally between Duflo; Abhijit Banerjee, the MIT Ford Foundation International Professor of Economics; and Harvard University professor and former MIT faculty member Michael Kremer "for their experimental approach to alleviating global poverty." Read more about the trio's work in development economics at MIT News.
According to MIT News, Duflo and Banerjee co-founded MIT's Abdul Latif Jameel Poverty Action Lab (J-PAL), a global network of anti-poverty researchers that conducts field experiments across the world. Kremer is also an affiliated professor with J-PAL.
Duflo is at least the 36th MIT graduate to win a Nobel Prize, and the 12th in the economic sciences category. She is also the fourth MIT alum to receive a Nobel in the last three years, following William D. Nordhaus PhD '67 in 2018, and Michael Rosbash PhD '71 and Rainer Weiss '55, PhD '62 in 2017.
Duflo brings the total number of MIT-connected Nobel winners, which includes faculty and researchers, to more than 90.
View the full list of Nobel Prize–winning MIT alumni below. The list does not include MIT alumni associated with Nobel-honored organizations—including but not limited to Wei M. Hao SM '82 and Kevin Trenberth ScD '72, who were among the many contributors to the Intergovernmental Panel on Climate Change, which was awarded a share of the 2007 Nobel Peace Prize.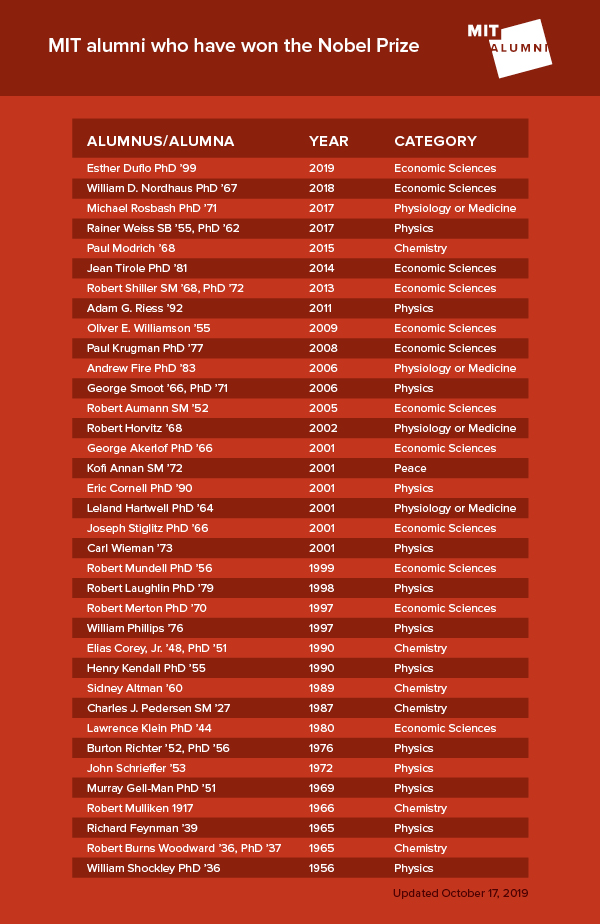 Click graphic for a larger version.
Photo of Esther Duflo (top) via MIT News.
Filed Under