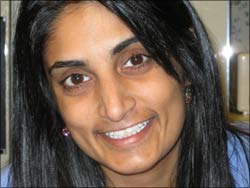 Improvisational comedy offers valuable lessons to business, says Lakshmi Balachandra MBA '04. An improv comic before working in venture capital and finance, Balachandra brought her spontaneous theater skills into the classroom during her MIT years. She taught improvisational leadership classes at the MIT Sloan School and you can see her work on the OpenCourseWare offering Dynamic Leadership: Using Improvisation in Business.
Improv teaches you how to think on your feet, she says, to accept the facts, and then build on them. All these are excellent business and negotiation skills. In a CNN article, she offers her five rules of improv:
"Yes, and." Accept a situation and then deal with it.
Avoid asking questions. Continually asking questions makes other people do all the work.
Listening. Focused listening is a crucial skill.
Add information. Contribute if you want to guide the conversation.
Eye contact. In the workplace it's important to pay attention to body language.
Get more details in the CNN article, "
Why using improvisation to teach business skills is no joke
."
Balachandra is now a doctoral student at Boston College. She recently won a Kaufman Foundation grant to support work on her dissertation, Pitching Trustworthiness: Cues for Trust in Early-Stage Investment Decision-making.
Filed Under