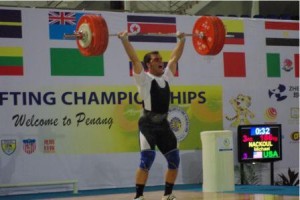 The Alumni Association wishes junior Mike Nackoul '13 good luck today as he tries out for a spot on the 2012 Olympic weightlifting team. The event will be webcast, and Nackoul is in the group (85kg) slated to begin lifting at 5:00 p.m.
Nackoul has had an impressive career so far, winning two School-Age (high school) National Weightlifting Championships and one junior title. He's also made two Junior World USA teams. Prior to the Junior World Weightlifting Championships in Penang, Malaysia, in July 2011, Nackoul lived at the Olympic Training Center for a month and a half to prepare. The pinnacle of competition for athletes ages 20 and younger, the Junior World Championships included more than 300 athletes from six continents.
Nackoul just missed the A group at the event but ended up winning the B group. Watch him do it and read an account of the entire experience written by his brother, Dave Nackoul '09.
Just for fun, check out Mike in the MIT varsity weight room making 400 pounds look like it's nothing. Want to see more? Check out his YouTube channel.
Filed Under