MIT Faces Challenges Globally, at Home, Says Corporation Chairman
Filed Under
When John Reed '61, SM '65 became chairman of the MIT Corporation in 2010, the position may have felt familiar since he had a successful history as chairman of Citigroup and the New York Stock Exchange. When the audience at the Feb. 21 MIT Club of Northern California Spotlight event asked him to compare the positions, he did not hesitate.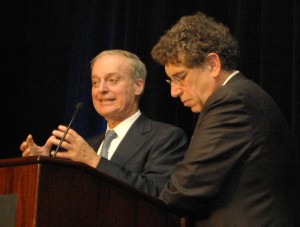 "Frankly the job is pretty much the same," Reed told some 380 alumni and guests gathered at San Francisco's Westin St. Francis Hotel. "MIT is a big enterprise—a $2.7 billion budget and about 20,000 people—the problems of governance are the same. We obviously aren't in a profit-making business, we are in the business of educating people and creating intellectual capital. So those are our priorities."
How is MIT doing? "We continue to get great students and we have great faculty, and we would have to say that the basic mission of the school is being fulfilled quite well. The two problems we have are our buildings are getting old and the model of how American research universities function is broken."
Video: Watch John Reed's talk in San Francisco
As chairman, Reed examines the hard realities of running a major enterprise with expectations of excellence. He noted that campus renewal has a high cost—he estimated that renovating the 100-year-old main group of buildings, for example, costs about $1000 per square foot. At MIT, like many research universities, tuition covers about 28 percent of educational costs and outside funding for research conducted on campus covers some 80 percent of costs. "Obviously we are not going to make money on tuition or research, the question is can we earn enough money on the endowment or raise enough money to keep the institution on the path we want to be on?"
Beyond campus finances, MIT faces a major challenge from globalization, Reed says. "The last 50 years in the United States has been singular—we were the only place in the world where talent wanted to come. So people with the intellect and the interest in science and technology wanted to come to the US to pursue these interests. And the American university system benefited immensely from that—40 percent of our faculty were born outside the United States. It's very difficult to believe that 30-40 years from now that will be the same because globalization is creating a situation where some of this talent will want to stay home. It's something that has motivated us to start activities in Russia and in Singapore because there is talent there we cannot access in Cambridge. So, globalization is both an opportunity for us and a challenge to us."
MITx is a response to another major challenge—the Internet and online learning. "One of our trustees says this is the equivalent of the Protestant reformation. You are taking the priests out of the temple, translating the bible so people are reading it themselves," Reed noted. "My guess is the challenge of the Internet is going to improve the campus experience because it is going to force us to make residential learning even better than it is today."
Reed's talk also cited global lessons from history, noting that around 1500, five civilizations held an equilibrium of power—China, India, Iran, the Ottoman Empire, and Europe. As the Europeans emerged from the Dark Ages, they began to use science and technology plus social and political organizations to create unprecedented economic strengths in capital growth and GNP. That wealth led to the colonization of much of the rest of the world, a period that ended in the mid 20th century. After World War II, the United States had a spectacular 50-year growth period, in part because it was the only major nation that was not devastated financially by the war. With financial uncertainties now looming in Europe and the US, Reed predicts that a new era of financial equilibrium is likely to evolve among leading nations.
"The big challenge we face now is how are you going to create jobs, good jobs, when you have two billion people who are equally competent and willing to work for a lot less? That is a pressure we are going to feel on our educational system and we are going to feel as engineers because much of the economy is technologically based," he said. "We are quite capable of dealing with this problem as a nation but we are not at a place where there is any sort of agreement as to how to do this."
And MIT's role? "I don't doubt for a second that the various challenges will be met and I am absolutely certain that MIT will be different but always relevant."
Filed Under