MIT Community Front and Center at HUBweek 2018
Filed Under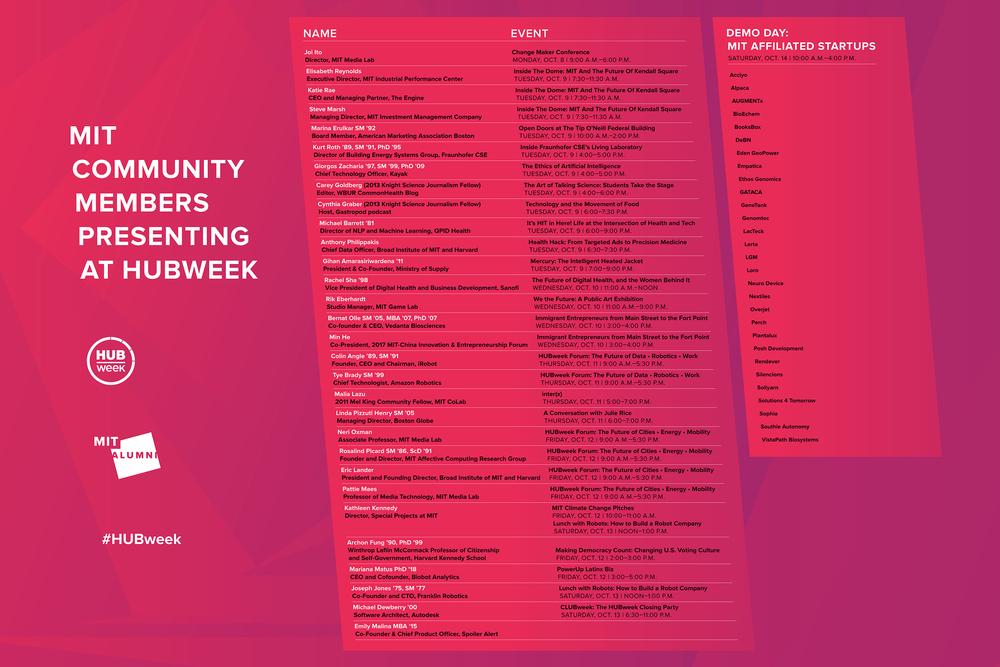 Click on the image to see the still-growing list of MIT community members at HUBweek 2018.
According to MIT News, the Kendall Square neighborhood will serve as a key area during HUBweek and will be the site of the all-day Innovation Playground on Oct. 9, which will feature a range of exhibits and activities that include the groundbreaking ceremony for the new location of the MIT Museum.
All MIT alumni and friends are invited to celebrate HUBweek. Some events are specially designed for the Institute community, including events in Kendall Square and at the HUB, HUBweek's central location in Boston's Government Center. (The MIT-connected events below require the free HUBweek general admission pass for entry.)
Tuesday, October 9
MIT Museum Groundbreaking Ceremony @ Kendall Square: Innovation Playground
Reception: 5:00–8:00 p.m. | Groundbreaking: 5:30 p.m. 314 Main St., Kendall Square
Participate in the groundbreaking of the future home of the MIT Museum. Stay for the reception, featuring a polishing station for your Brass Rat!
Thursday, October 11
MIT10 Reception @ HUBweek's Hall of the Future
6:00–9:00 p.m. | City Hall Plaza, Back Deck, 1 City Hall Square, Boston
Celebrate with recent grads and learn about advances in art, science, and technology, and enjoy complimentary appetizers and drinks! Register for the MIT10 Reception.
Saturday, October 13
Demo Day @ the HUB
10:00 a.m.–4:00 p.m. | City Hall Plaza, 1 City Hall Square, Boston
Check out Boston's highest-impact start-ups, labs, and companies, including more than 30 MIT-connected groups. Visit the Alumni Association table for MIT swag!
Is there an MIT community member missing from our list of Institute-related HUBweek presenters? Let us know in the comments or on social media and we'll add them to our still-growing list.
Filed Under