In the four decades since the first electronic messages were sent between computers, MIT students and alumni have seen it their duty to hack and improve upon email's functionality.
Michael Grinich '11 and Christine Spang '10 are no different. Last week they debuted Inbox, a software platform they say will improve all email platforms and the apps that use it.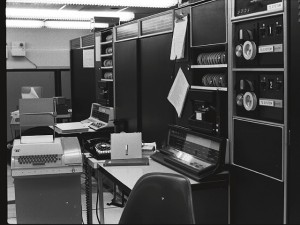 Frustrated with the clunky code of IMAP, the typical protocol for Gmail, Yahoo, and other email clients, Grinich and Spang say they have found a way to better sync contacts, messages, and other email data to all the apps on your mobile device. Inbox, they say, is much more flexible at letting apps connect directly to inboxes.
For example, imagine a visit to Europe, where your Yelp app suddenly suggests restaurants your friends emailed you about years ago. Or thumbing through thousands of photos on your phone to find one you've emailed. Using Inbox, an app could mark all photos you've already sent to contacts.
"Email is the database of your life. It's the digital home for your conversations, memories, and identity," says Grinich. "But for developers, working with email is incredibly difficult and requires learning archaic protocols and formats. The Inbox API solves that and lets you focus on building your app."
Though they are not ready to reveal numbers yet, Grinich was buoyed by the response last week. "It seems we really struck a chord with developers worldwide—the Inbox API is clearly something they want and need. It's extremely exciting."
As for replacing Gmail or the likes of it anytime soon, graduate student Wei Sun believes he has coded a better, more secure email client in ProtonMail, which launched in beta in April. A cryptography expert who has also worked at CERN, Sun helped design an email client that employs end-to-end encryption to thwart governments or other entities from accessing inboxes.
ProtonMail seems to be appealing to a privacy-weary world after the Edward Snowden affair. Over 20,000 users have signed up, and 200,000 are on a waiting list while ProtonMail grows, Sun says.
"U.S. tech companies' reputations are lost in the field of security and privacy," says Sun. "By incorporating and hosting servers in Switzerland, we benefit a lot from strong Swiss privacy law and reputation in privacy."
Sun is skeptical that the big players in the email space can catch up. "Implementing end-to-end encryption on top of Gmail and Yahoo basically means re-doing their entire architecture, which takes lots of time," he says. "It also contradicts their business model: selling user data for advertisements."
Sun has brought on Luli Li '07 and EECS junior Jeremy Wohlwend to work on the project as well, and he continues to work with the MIT Venture Mentoring Service for support.
As if these startups weren't enough, MIT alumni who created MixMinion, Toymail, Immersion, Cloze, and Cannonball continue their work on hacking the inbox.
Filed Under