IAP Externships: Learning What it Takes to Run a Transit Authority
Filed Under
This is part of a series of posts from MIT students and alumni who were involved in the 2012
Student/Alumni Externship Program
, which connected current students to alumni in workplaces worldwide during MIT 's Independent Activities Period.
Alumni, learn how to get involved
.
Guest bloggers: Moji Jimoh '12 and Christine Sowa  '14 Host: Mark Magnussen SM '67
Washington Metropolitan Area Transit Authority (or WMATA for short) prides itself on being "The Best Ride in America." They are the organization responsible for the DC metropolitan transit system, which includes MetroRail, MetroBus, and MetroAccess (service for the people with disabilities). We have spent the past three weeks externing in Cheverly, Maryland, working with the Program Bus One Projects Office (PRGM), which handles the repair and maintenance of bus facilities. There are 11 facilities under their authority, located within and around the city. The PRGM handles numerous (over 70!) construction contracts to fix broken systems, upgrade personnel areas in facilities, install new systems, and more at the various sites. However, the most important fact about their work is that no facility is shut down while these projects are undertaken. And these are only the bus projects. A lot of diverse work goes into making the best ride in America.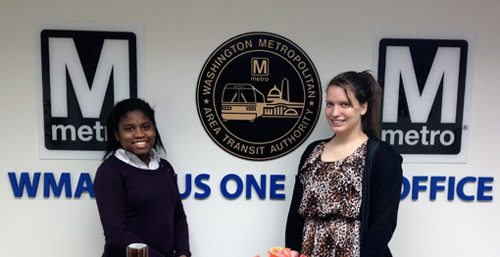 This program is managed by Roy Noyes, who was originally a nuclear engineer like our sponsor, Mark Magnussen SM '67. The program has three different types of people: construction engineers, construction inspection facilitators, and inspectors. The construction engineers are assigned to a couple of facilities based essentially on geographical location and number of projects; however, there is some overlap as this system is in the process of changing. The construction engineers (CE) are in charge of identifying and writing up proposals of work that a facility may need and verifying that the construction designs, work plans, etc. that contractors have submitted are addressing the problems that were identified. Construction inspection facilitators (CIF) are also assigned to several work sites. The CIF's job is to work with construction contractors to develop a construction schedule and with WMATA offices to get appropriate forms reviewed and approved for the scheduled work. Inspectors are assigned to a specific site and keep track of all the details of the construction projects there.
So what do we externs do? Well I've (Moji) attended preconstruction meetings for new projects, weekly safety meetings for projects in Maryland, Virginia, or DC, and construction site walk throughs. I've also helped to prepare estimates for new project proposals and worked with contractors to get more information for WMATA. While we're based just outside DC, we travel with the CIFs and CEs to sites, driving rather than using the system because we may have a meeting in Virginia followed by a meeting in northern DC. Mostly we've gotten a glimpse of the work that's done because there's so much going on and some of it started long before we arrived or perhaps will start long after we leave, but it's been a great four weeks interacting with the staff of the PRGM at WMATA. (I think WMATA loves acronyms more than MIT does!)
Every day is a new adventure at WMATA—so far, I've (Christine) been to three different bus facilities. Upon arrival, I tour the buildings and then sit in on preconstruction meetings for different projects. What shocks me the most is the seemingly mundane issues that come up in these meetings that are vital to the project. Things like the types of vests the construction workers wear wouldn't even cross my mind, but to the federal government, they are extremely important.
So much work goes into a single project—from estimates and transmittals to safety meetings and federal funding. Externing at WMATA has given me a glimpse into the world of public transportation in one of the biggest cities in America.
Filed Under