IAP Dispatch: When Infinite Connections Become Real
Filed Under
This is the final post in a series from two MIT students—Shawn Wen '13 and Taylor Yates MBA '14—involved in the 2013 Student/Alumni Externship Program, which connects current students with alumni in workplaces worldwide during MIT's Independent Activities Period. These bloggers reported on what they learned and how the experience informed their career journeys. Alumni, learn how to get involved as a sponsor. Read the other posts in this series.
Guest Blogger: Shawn Wen '13 Extern sponsor: Jon Glaudemans '80 Company: Ascension Health, Washington, DC Externship: health policy analysis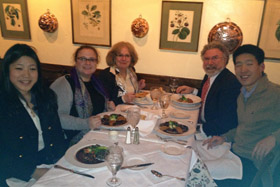 As I wrap up my final week at Ascension Health (AH), I am amazed at what I have had the opportunity to do this month. In this past week alone, I have attended congressional hearings; participated in an Alliance for Health Reform briefing on strategies for bending the health-cost curve; researched and prepared data charts on Medicaid Expansion for the CEO of AH; and learned about new, effective practices for reducing shoulder dystocia, a high-trauma birth event, from AH's director of clinical excellence. I also have been invited to the David Winston Health Policy Gala to cap off my final night in Washington, DC!
What I have come to appreciate is the strength of the MIT connection. It's something that has been well articulated by others before, but it hadn't resonated with me so strongly until this externship experience. Becky Donnellan '72 generously opened up her home and family to me, and my sponsor, Jon, despite traveling extensively, spent the few days he was in our DC office giving me insights on how to lead effectively, make others believe in your vision, and connect with others in professional and personal domains.
Amazingly, everyone I have met has taken a personal interest in helping me, an undergrad, despite their high-profile careers and busy lives. When prompted about my passions, I shared my ongoing work on a low-cost typhoid diagnostic system targeting resources-limited healthcare settings in developing countries, and immediately Jon and Becky both started lining up connections for me. The support was certainly unexpected, and it amazes me how they are personally and genuinely invested in me simply because we share a common alma mater. I doubt this exists at any other institution. Their desire to see me succeed and my desire to make them proud are powerfully motivating. I know I will stay in touch with them in the future.
In short, the Alumni Association's Student/Alumni Externship Program is one of the most valuable and rewarding opportunities I've had at MIT—everyone should take advantage of it. Working at AH helped me build a critical understanding of barriers to the delivery and consumption of healthcare, which I know I will draw upon as a future physician. More importantly, interacting with Becky and Jon opened me up to a whole network of amazing people and helped me appreciate and recognize the type of mentor and person I aspire to become. I couldn't have planned a more rewarding fourth and final IAP and am so wonderfully grateful to have had this opportunity.
Filed Under