IAP Dispatch: A New Perspective on Health Care
Filed Under
This is part of a series of posts from two MIT students—Shawn Wen '13 and Taylor Yates MBA '14—involved in the 2013 Student/Alumni Externship Program, which connects current students with alumni in workplaces worldwide during MIT's Independent Activities Period. These bloggers will report on what they learn and how the experience informs their career journeys. Alumni, learn how to get involved as a sponsor.
Guest Blogger: Shawn Wen '13 Extern sponsor: Jon Glaudemans '80 Company: Ascension Health, Washington, DC Externship title: health policy analysis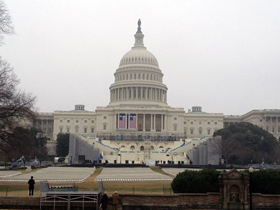 Ascension Health (AH) is one of the largest health systems in the US, operating a network of over 400 hospitals and medical centers across the country, and I am lucky to call AH's policy and advocacy office in Washington, DC, my home base this IAP. In just my first week, I have been warmly welcomed by a tight-knit office community and have been fully immersed in the excitingly fast-paced world of health policy. Some days, I am in the office in downtown DC, researching and preparing reports on various topics, such as mental health services to be included in the Affordable Care Act's Essential Health Benefits package and implications of the recent changes in Medicare coverage for skilled nursing and therapy services for chronically ill beneficiaries.
Other days, I am tagging along with AH's senior VP of policy, and I find myself in boardrooms in the company of some of the most influential thought leaders in health care as they engage in earnest discussions about the key driving forces in the health industry; threats of the upcoming budget talks on Medicaid reimbursement rates; and the necessity of moving away from a fee-for-service reimbursement system, which rewards high quantity of services, to shared savings, which rewards high-quality and coordinated care. Every day, I aim to develop more clarity on the world of complex challenges that bar cost-effective delivery of health care in the United States.
Next time, I'll cover my thus-far fantastic experience living with an MIT alum and Inauguration Day.
About Shawn Wen '13 I am a premed senior studying brain and cognitive sciences. The most interesting experience I've had at MIT has been working on implementing an electricity-free typhoid diagnostic system in resources-limited health-care settings in rural Nepal as an MIT International Development Initiative Technology Dissemination Fellow. Before beginning medical school, I plan on spending a gap year in Nepal channeling MIT's fundamental principles of innovation and entrepreneurship into my personal engagement with global health and public service. I'm excited to explore yet another side of health-care delivery this IAP.
Filed Under