DIY IAP: Can You Top HelmetHub?
Filed Under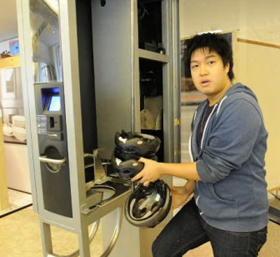 Urban bike sharing arrived in Boston last summer to great success. Hubway offered 60 modular solar-powered stations and 600 bikes, which residents and tourists put to good use, logging more than 140,000 trips in four months. But one thing was missing from 70 percent of the riders: helmets. Which, as we all know, save lives.
So some MIT students in the 2.009 Product Engineering Processes class set about finding a solution and developed a prototype of what they call HelmetHub. The solar-powered vending machine, which occupies half the space of soda machine, would offer headgear that adjusts to fit most head sizes.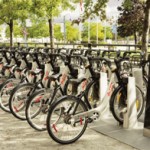 According to Boston.com, the machines are currently being imagined as both sale and rental kiosks. Hubway users could return an $8 helmet for a partial refund if they desired. The students hope to begin beta testing next summer.
Want to learn more?
Explore prototyping and field implementation in OpenCourseWare's
Prototypes to Products class
. Also check out the resources offered by the
website for the class textbook
,
Product Design and Development
, by Karl Ulrich and Steven D. Eppinger.
Filed Under