The Archeology of Building 26
Filed Under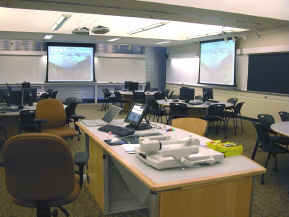 Professor Patrick Henry Winston '65, SM '67, PhD '70
A day or two ago, I explained the state of Artificial Intelligence to a group of high school teachers here for the 2012 edition of the MIT Science and Engineering Program for Teachers (STEP), where high school teachers learn about what's new.
I've been part of the program for the past twenty years or so. I think of it as payback for the inspiration I got from my high school physics teacher, Mr. Smith, and my high school algebra teacher, Mr. Gerlach, affectionately known to us students as "Snuffy" and "Hogjaws." I never got around to thanking them, so I thank each batch of STEP teachers instead.*
My talk was in 26-152, now a room converted to Technology Enhanced Active Learning (TEAL), where students sit at tables and work together to absorb material and solve problems.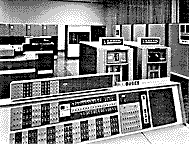 It occurred to me that if I stripped off the carpet, I would likely see signs of false floor, because when I showed up at MIT, 26-152 was the home of the IBM 7090, the wonder of its age.
Back then, 26-152 was like a tabernacle. Only priests, also known as operators, were allowed in. Lights blinked. Big tape drives spun. Air conditioners made noise and spewed cold air. Card readers ate card decks by the yard. Important, pioneering programs executed, including the very first AI program that performed at a human level.
Freshmen, like me, would stop at the glass doors and stare in, mesmerized.
MIT's 7090 had two memories, one for user programs and one for the time-sharing system, both holding 32k words of 36 bits each. So, the 7090 had a little more than 256KB of memory.
I asked the teachers to pull out their iPhones. I noted that each one has more than 100,000 times more memory than the 7090.
If tuition had increased by 100,000 times, MIT would cost $140 million per year. If my laser pointer had 100,000 times more power, I could cut through a half-inch of steel.
Amazing.
* I have long regretted that I never sent a thank-you note to Snuffy or Hogjaws. If someone inspired you back in high school, I know it would make their day, or maybe their year, to hear from you.
Filed Under