Turning Heads on Mass Ave: Meet Valkyrie
Filed Under
Pulling off Massachusetts Avenue and into the Edgerton Center's Fabrication Space in Building N51, Valkyrie turns a lot of heads.
Valkyrie—MIT's Solar Eclectic Vehicle Team's (SEVT) current vehicle—is often road tested around MIT's campus to the delight of onlookers.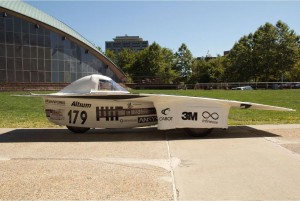 "We see people kind of pace the car and taking videos," explains Rose Abramson '15, SEVT's Electrical Lead.
SEVT, which was founded in 1985,  has long been supported by the Edgerton Center which provides the team with seed money, safety and administrative oversight,  workspace, equipment, and mentorship.
Valkyrie is the 12th road-ready vehicle to be designed and built by SEVT.  The current model boasts an all-composite chassis, 21 percent efficient solar cells (the ratio of the electrical output of a solar cell to the energy in the form of sunlight), and a top speed of nearly 65 miles per hour. What often turns heads is Valkyrie's design—it has a flat top covered in solar panels and rides on three wheels—looking more rocket than car.
Vehicles created by SEVT cruise the busy streets of Cambridge to prep for their ultimate test—solar car races. SEVT recently raced Valkyrie at the American Solar Challenge in Austin, TX.
The event featured 20 college teams and several rounds of track races culminating in an open road trek from Austin to Minnesota. Valkyrie advanced through the first round of track races, but was stopped short of the open road race.
"We had a couple parts that had problems at the track and we were trying to debug it, but we just ran out of time. It was disappointing to us because we have been driving around Boston," say Abramson.
Fortunately this isn't the only chance SEVT gets to showcase their skills. The team is looking to the World Solar Challenge 2015 in Australia next—though Valkyrie won't be joining them.
"Every five years or so the World Solar Challenge adds a regulation to make the cars less experimental and more like a real car," Abramson explains.
The newest regulation change? No more three wheel vehicles.
That means the SEVT team will soon be starting over, but not entirely from scratch.
"We are planning on reusing a substantial portion of the parts from Valkyrie to save on the enormous manufacturing costs," Abramson explains.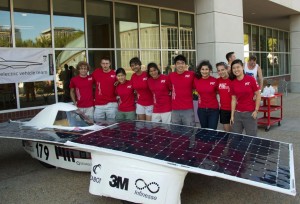 The team of about 20 students makes almost every vehicle part in-house—from building mechanical systems to soldering electrical boards. "It gives you a lot of opportunity to design different things," says Abramson.
While the team has big plans for their newest car, one major component still needs to be selected: the name. The team is looking for a snappy name to follow up Eleanor, Chopper del Sol, and Valkyrie. Abramson says the team is open to suggestions.
Filed Under