Students with Energy, Meet Alumni in Energy
Filed Under
Energy research has become an increasingly important part of the MIT culture, and with students now pursuing minors in energy studies, they are often on the lookout for practical ways to use what they've learned. Some of the most fruitful experiences happen with the help of alumni.
Here are three stories of alumni welcoming MIT students into their energy-focused companies to learn about different aspects of the industry and the benefits the students offered in return.
This is part of a series of posts from MIT students and alumni who were involved in the 2012 Student/Alumni Externship Program, which connected current students to alumni in workplaces worldwide during MIT's Independent Activities Period. Alumni, learn how to get involved. This is just one way for alumni to interact with MIT students. Learn about other opportunities.
Guest blogger: Jon Garrity '11, product strategy specialist, GE Energy Digital Energy, GE Energy's Atlanta-based smart grid business, hosted two externs over IAP. Fan Wei '12 and Jorge Moreno, a grad student in the System Design and Management program,  spent four weeks developing analytics around distributed solar energy. Fan's mathematics background combined with Jorge's considerable experience in the energy industry made them a formidable team. The first day we gave them project and company background, and by day two, they were off and running.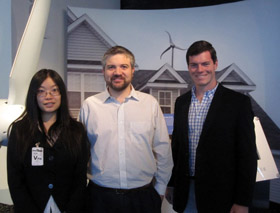 Our utility customers have challenges integrating distributed generation (for example, rooftop solar installations) into the grid. It isn't easy to see how much energy all these distributed resources are generating at a given time. The intermittency of certain distributed generation can lead to reliability issues, like flickering. Fan and Jorge, in their short time with us, did an extensive literature review, collected data, and built multiple models for our customers. These models will provide utilities with information on distributed solar generation, improving planning and customer engagement.
With only four weeks to complete the project, the team spent many hours fine-tuning their models and finishing their final presentation. The externship culminated in a presentation to our Smart Grid Solutions business leader. There were jokes before the meeting that "MIT's reputation is on the line," but Fan and Jorge delivered an excellent pitch and left everyone impressed. Fortunately, Fan and Jorge were able to experience some culture too—enjoying real Southern barbeque and touring downtown Atlanta. Both agreed that Georgia is a great place to enjoy IAP, especially during one 71-degree afternoon.
Having participated in the externship program as an extern several years ago, it was great to stay involved in the program from the employer side. Both Fan and Jorge jumped right into the project and had a very productive four weeks. We're looking forward to staying in touch and also to hosting more externs next year.
 Guest blogger: Jacqueline Berger '89, president of APPRISE "Welcome to APPRISE!" we said to Kimberly Li '12 when she walked into our office in Princeton, New Jersey, on a cold January morning. We had been looking forward to introducing Kimberly to our staff and engaging her in various aspects of our evaluation research. Little did we know how much of an impact Kimberly would have in our office in such a short time.
APPRISE is a nonprofit research institute dedicated to collecting and analyzing data and information to assess and improve public programs. Our current research includes work for federal and state governments, agencies, utility companies, and nonprofit organizations. During the course of Kimberly's month of work at APPRISE, she participated in five very different projects and learned about the role of program evaluation in the field of energy efficiency.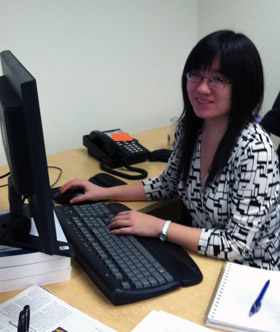 On her first day of work at APPRISE, Kimberly assisted with the launch of a survey for a large state government agency. The survey addressed the impact of energy efficiency programs on workforce development. In addition to participating in the briefing of the phone center interviewers, Kimberly was responsible for monitoring the telephone surveys to ensure that they were conducted in accordance with the research protocols. This work allowed her to observe some of the challenges that arise when designing and implementing efficient and effective telephone surveys.
Kimberly also had the opportunity to assist with the design and preparation of a research report on another survey project. This survey also focused on workforce development, but for a national energy efficiency program that serves low-income households. Kimberly was given the survey instrument and survey data to review and tasked with designing preliminary tables for the report. While preparing these tables, she was able to review the survey data, think about the importance of different results, and design tables that would most effectively present the findings. This experience allowed her to understand some of the analytical issues that we face in our research.
Another project that Kimberly was involved with was a lighting and home electronics field training with APPRISE staff. The training involved an information session to discuss different types of home and commercial lighting fixtures, as well as a mock audit of an actual home. The results of this training will be used to determine future training methods as well as the protocol for home audit visits.
While we were very excited to introduce Kimberly to the field of program evaluation and survey research, we were also pleased to learn of the technical skills that she brought with her. One such skill was her knowledge of website design and development. We asked Kimberly to review the APPRISE website and to make suggestions as to how to make it more aesthetically pleasing. Kimberly was very forward thinking and made suggestions to improve not only the look of the website but the ease of navigation on the individual web pages. During the month that Kimberly was working with us, she was able to design and implement a large number of improvements for the APPRISE website.
Kimberly was involved in all of the above projects in the span of four short weeks, and she did it all with a smile on her face. It was a wonderful and rewarding experience for APPRISE, and Kimberly reports that it was rewarding for her as well.
Guest blogger: David Karohl '85, SM '86, president, My Best Plan We tried in vain last year to attract externs, and this year we finally succeeded! Our company, My Best Plan, helps homeowners and renters navigate the competitive residential electricity market in Texas. With 50+ electric companies (residential sales of $10 billion per year) and 250 plan choices for the consumer (some of which change price every day), there are a lot of choices. But shopping pays off, as many people have bills that average $200–$400+ a month. So getting the best deal can mean savings to our clients of $500–$1,000 per year.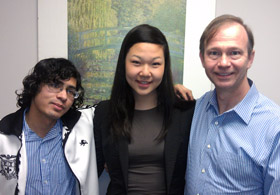 Free, high-quality labor—that' s why we wanted MIT students. That, and to give them some real-world experience that might put classes into better context, help them beef up their resumes, and actually be interesting. Our company runs on information (about electricity prices, payment options, etc.) and people (our sales team taking the information to clients and prospective clients).
Nasir Adaya '14 focused more on the information side, helping us capture and organize the 250+ rate-plan choices we track. Our software is in the cloud, and much of it is written in Python, so imagine how pleased I was to hear that this is now the standard programming language at the Institute. I remember my Course VI friends and their LISP on mainframes….
Angela Ha '15 worked on the people side, updating our very dated sales contract to reflect the last two years of experience with our clients. She also made the format much more suitable for integration into our databases and in so doing prototyped electronic versions for paperless processing in the future.
We tried to create stand-alone projects that can be completed fully (and therefore put into immediate use), and, in addition to these projects, expose them to the mundane, but business-critical items—data entry, validation, etc.—that can make or break a company. Finally, we hope they'd learn a little about energy in general, electricity in particular, as well as how entrepreneurial companies navigate challenges and opportunities.
Filed Under