Student-Designed Relief Effort Aims to Rebuild Haiti, Ease Unemployment
Filed Under
After the devastating earthquake that struck Haiti one year ago, members of the MIT community mobilized to aid relief efforts through fundraising and public service activities. Within a week's time, for example, a project-based Independent Activities Period workshop sought innovative technologies to alleviate the crisis. And out of that workshop came
Konbit
, a free, open-source platform that assists NGOs with finding local labor instead of bringing in foreign aid workers, which is often the case.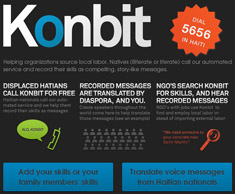 Media Lab grad students Greg Elliott and Aaron Zinman SM '06 built Konbit knowing that at least half of Haitians are illiterate and that many people, despite their living conditions, either have a cell phone or have access to one.
Here's how it works.
Haitians call Konbit's automated service for free from anywhere in the country (thanks to local cell provider Digicel) and are greeted by the familiar voice of veteran broadcaster Bob Lemoine, asking if they have certain types of work experience, such as construction, electronics, nursing, leadership, babysitting, or sewing. When callers find relevant areas of expertise, they are prompted to record their skills and life experiences as story-like messages. These messages are then translated through the Konbit web interface or via phone and crafted into personas that NGOs (such as the American Red Cross or Partners in Health) can search.
"We wanted to figure out how we could help people tell stories about their lives," Elliott said in an interview with Public Radio International's The World. "What have they done over time? Have they taken care of loved ones? Have they had any sort of experience necessary to do jobs? And then we do the work of translating that into a format that the NGOs expect and would be able to search." Read the interview or listen to it.
Skill sets in Konbit are searchable and visible via natural language processing and visualization techniques, and the system constantly grows and self-heals by using statistical analysis to expose hidden skill associations. It might uncover, for example, that people good at pouring concrete also tend to be good at rubble removal and ask locals if that skill should be added to their profile. Once employers find potential labor, Konbit streamlines the process of contacting employees through SMS.
At the end of December, Konbit launched a radio-advertised trial in Port-au-Prince. In just a couple of weeks, the service logged more than 500 calls. Elliott and Zinman contracted a Haitian company to translate the initial messages within two months—ideally this translation will be crowdsourced in the future. With the data, they will then reach out to their NGO connections to help callers find work.
Can you translate Creole? Visit the Konbit website to help out.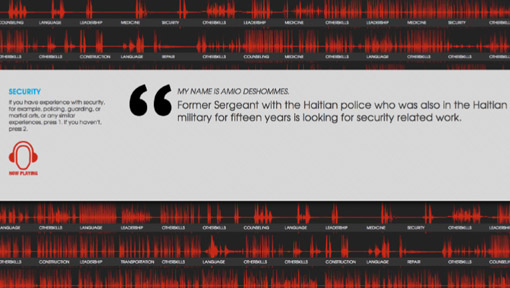 Learn about other MIT-related Haiti relief efforts in the Spring 2010 Faculty Newsletter from Faculty Chair and Sloan Professor Thomas A. Kochan. Kochan is developing a long-term strategy for MIT initiatives in Haiti with Associate Provost Philip Khoury.
Follow Konbit on Twitter.
Filed Under