NASA astronaut Cady Coleman '83, circling Earth aboard the International Space Station, and musician Ian Anderson, founder of the rock band Jethro Tull, joined together for the
first space-Earth duet
recorded in this video.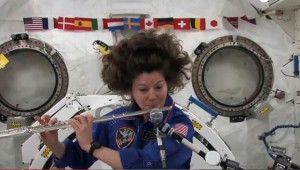 Their performance last spring honored Soviet cosmonaut Yuri Gagarin on the 50th anniversary of his flight circling the Earth, the first human journey into outer space.
Want to hear more about Cady's flute flight and another tune? She actually brought four flutes on board including one made in Massachusetts, her native state.
Filed Under