A Sense of Duty to Help Hemophilia Patients, Rooted in Childhood Experience
Filed Under
For Guadalupe Hayes-Mota '08, MBA '16, SM '16, the decision to pursue a career in pharmaceuticals was an intensely personal one. Hayes-Mota was diagnosed with hemophilia at birth and had limited access to medication in the small city in Mexico where he grew up, which meant long hospital stays for bleeding episodes of the clotting disorder. When his appendix burst at age 12, Hayes-Mota underwent emergency surgery, followed by a desperate eight-hour ambulance ride to another hospital in search of better medication to stop the bleeding. Doctors told his parents he was unlikely to survive—but against all odds, he did. And as he grew older, he became determined to make sure people around the world can get the medications they need.
Today, he is the director of global supply chain and manufacturing at Ultragenyx Pharmaceutical, a biopharmaceutical company developing treatments for rare and ultra-rare diseases. The company has various biologics, gene therapies, and other drugs in development—two of which are already FDA approved. Most exciting for Hayes-Mota is the company's work on a gene therapy for hemophilia that would only require treatment every few years. "If we're able to develop something that's cheap and effective, and provide that to developing countries," he says, "patients there won't have to worry about access to medication."
At Ultragenyx, Hayes-Mota is in charge of developing strategies for manufacturing and distributing therapies to 35 countries. "We're a smaller company, so I wear many different hats," he explains. His responsibilities range from making decisions about how and where to manufacture and distribute products to making sure that production is running on time—work that requires daily meetings with people in every facet of the supply chain, "as well as sitting down and thinking about the strategy of where the supply chain will be in one year, five years, 10 years," he says. In recent months, Covid-19 has required him to continuously adjust to supply-chain and manufacturing disruptions. "What motivates me is knowing that whatever I'm doing could determine whether a patient will get a medicine or not—it takes me back to my childhood," he says, adding that day to day he enjoys operations because "you get stuff done and make things happen."
What motivates me is knowing that whatever I'm doing could determine whether a patient will get a medicine or not—it takes me back to my childhood.
The desire to get stuff done has always been strong for Hayes-Mota. He became interested in science as a child, when his hemophilia forced him to spend most of his time in the hospital or playing indoors. "I was the kid who would break toys apart to put them back together," he recalls. "Because I was so isolated, the only thing I could do was do that, and read books."
After Hayes-Mota recovered from his appendicitis, his family moved to the US seeking better medical care. It was as a high school student in southern California that he first heard about MIT. "It sounded like a place where problems can be solved, and where there's innovation happening," he recalls. He majored in chemistry with the idea of becoming a doctor, but while working in health care and public policy after graduation, Hayes-Mota began to reconsider how he could have the biggest impact. "I realized what I really care about is organizational transformation," he explains—"thinking about how to scale up changes in systems." He returned to MIT for a dual MBA and master's in engineering through the Leaders for Global Operations program.
"There is something about people's curiosity at MIT that is different," he reflects of his time on campus. "There is the sense that it doesn't matter where you come from—as long as you're smart and driven to change stuff, you'll be part of the conversation."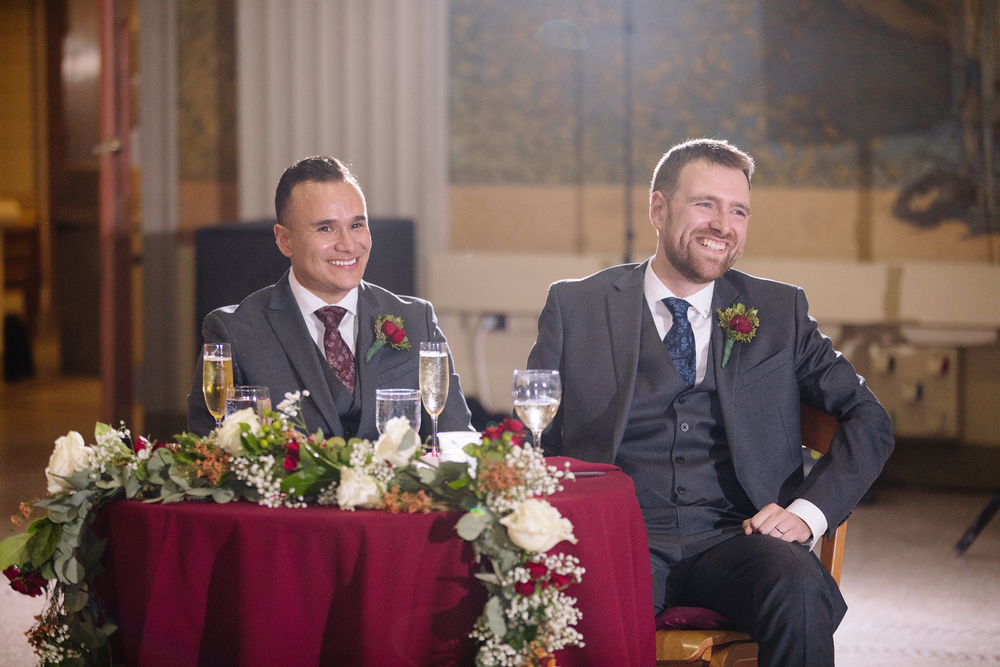 MIT is also meaningful to Hayes-Mota for another reason: He came out as gay at the beginning of his first year and was heavily involved in the student LBGTQ+ organization GaMIT, eventually becoming president. During his undergraduate years, GaMIT was advocating for marriage equality amid political backlash after Cambridge legalized same-sex marriage. Fittingly, in 2018, Hayes-Mota and his husband held their wedding reception in Walker Memorial, where GaMIT is headquartered, with related events in the Rainbow Lounge, formerly run by GaMIT and now home to MIT's LBGTQ+ Services. "For me it was very important because it really closed that loop—that's where I came out, and that's where I worked on marriage rights," Hayes-Mota says.
Now he is copresident of the alumni group BGLATA, which aims to provide a social and professional network for the MIT LBGTQ+ community. The group not only facilitates alumni networking but also connects undergraduates with alumni for support and mentorship. (The group's efforts to reach out to students are even more vital now, he notes, since Covid-19 forced students to leave campus halfway through the spring semester, in some cases returning to less-than-welcoming home environments.) Hayes-Mota believes the role of BGLATA is "to become a connector of leaders in LBGTQ+ STEM in the professional world" by organizing programs and events that inspire its constituency to stay in STEM. Its most recent event was an online panel of seven MIT-educated professionals, including Hayes-Mota, discussing "career paths while being LBGTQ+" (see video below).
Hayes-Mota is also a board member for Save One Life, a nonprofit that provides medication, scholarships, and business grants to people with bleeding disorders in developing countries. "I feel like it's my responsibility and my duty to improve the lives of people with hemophilia," Hayes-Mota says. He describes a similar feeling of responsibility to the LBGTQ+ and Latino communities. This desire to make his communities better, he says, is the driving force for everything he does. "How I see it is: If I don't do it, who will?"
---
Watch the video: In this webinar from April 2020, Guadalupe Hayes-Mota and a panel of alumni/alumnx experts in their fields share their journeys navigating the workforce and career choices after MIT.
Panelists: Hal Anil '15, Braze Clare Bayley '10, Delbert Green II '08, Guadalupe Hayes-Mota, '08, SM '16, MBA '16, Melva James SM '09, Andy Rubinson MBA '02, Ariba Christine Thai '03
Filed Under