Rocker Tom Scholz '69, SM '70, Shows 'Secret Life'
Filed Under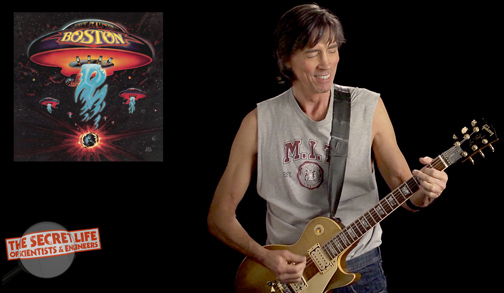 Not many people become rock musicians at MIT, but one, Tom Scholz '69, SM '70, began a music revolution during his student days on campus.
"When I headed off the MIT, I had no interest in rock and roll music," says Tom Scholz, an inveterate tinkerer who majored in mechanical engineering. "I had some experience with classical music. But in college I heard the Kinks, the Yardbirds and the English Sound … and then I got the bug."
The founder of the band, BOSTON, and inventor of the Rockman guitar amplifier is profiled in the PBS web series the Secret Life of Scientists and Engineers. A series of short videos offers glimpses of Scholz in his practice studio wearing a cut away MIT shirt, commenting on his unique sound and song-making style.
One focus is Scholz's dual role as engineer and musician. He began making music on multiple instruments—some invented to make distinctive sounds—for fun, not as a career move. After graduation, he became a product design engineer at Polaroid, working on projects such as building a sound system for analog instant movies. In the process, he learned how tape recording worked and soon built a recording studio in the basement of his apartment house. Although he kept his day job for years, Scholz was also writing, engineering, and producing music. Working primarily with vocalist and fellow song writer Brad Delp, he created and began circulating demo tapes, which ultimately resulted in a recording contract with Epic. Although the group's history is complex, when they issued their first album in 1976 as the band BOSTON, it was the most successful debut album ever.
The Secret Life interview comes as Scholz and BOSTON prepare to start a US tour on June 4, with stops in Canada and Japan, following the release of their first studio album in 12 years, Life, Love & Hope.
Scholz still depends on complex engineering in his music making.
"I have the idea running through my head and think I how it's going to go but I can't listen to it until I actually play a dozen different parts, each with their own sound, their own character, and emotion, and I actually have to engineer that, get the equipment prepared and produced it. When I have all of that done, I get to listen to it. And that's the reward."
Visit the BOSTON website for tour dates, lyrics, band and instrument news, and biographies including Scholz's commitment to vegetarianism, animal activism, and philanthropy.
Filed Under