Reunions: Sigma Chi Celebrates 130th Anniversary
Filed Under
While all alumni are invited to Tech Reunions each June, that is not the only reunion around. Increasingly, living groups, sports teams, or other groups are reconnecting through their own self-organized reunions. And the really savvy groups—like Sigma Chi—have a great time on campus and share the experience with alumni worldwide.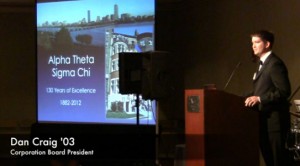 Video, photo, and commentary document Alpha Theta chapter's three-day reunion April 27-29. You can browse through the experience from an open house at 532 Beacon Street, the chapter's Boston home for 95 years, to a black-tie banquet at the Westin Copley Place that drew 300 people. See photos and hear talks about the group's history and future as well as a memorial for Brian D. Robertson '96, an entrepreneur who died in 2011.
And then it was back to the classroom for Alpha Theta Academy, which featured three alumni and one undergraduate sharing their life experiences. You can watch videos of their talks:
John Piotti '83: Sustainable Local Agriculture in Maine
Piotti shared his 15+ years of experience as a leader of Maine's recent agricultural renaissance, most recently as executive director of the Maine Farmland Trust.
Al Dahya '05: The Economics and Technology of Solar Power
For the last five years, Dahya has worked for Alpha Theta-founded SunEdison, an early innovator in solar power as a service.
Michael Kirtley '72: OKA!
Kirtley hitchhiked across the Sahara Desert, beginning a career in photojournalism in Europe and Africa. Most recently he co–produced the newly released feature film OKA! shot in the Central African Republic.
Gabe Blanchet '13: Thru–Hiking the Appalachian Trail
He took his sophomore spring semester off to thru–hike the Appalachian Trail. In the process, he raised $11,000 for juvenile diabetes research.
Filed Under