It might sound rather ironic that an MIT grad would have a personal crisis involving a robot, but for Teresa Huang '97, that's exactly what happened. She'd been acting in Hollywood for a number of years, "pretty much exclusively playing doctors and nurses on episodic TV in various small parts," until one day she found herself working a gig at Disneyland demonstrating the Honda ASIMO robot.
"It was a product placement opportunity disguised as a show," explains Huang, who says the gig involved her talking to the robot like it was her best friend. "I'd been having the worst day of my life in the happiest place on earth—talking to this robot—and something just snapped in my head."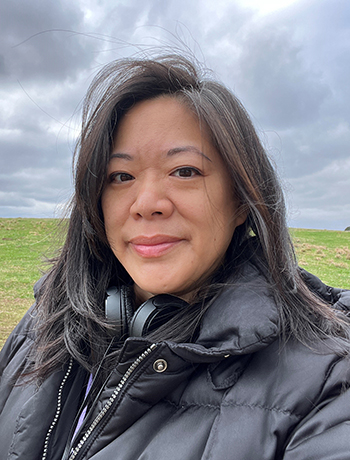 Huang hadn't come out to Hollywood to play sidekick to a robot—she had bigger ambitions. "I have stories of my own I want to tell," she thought. "And I want to tell them on television. I believe in the power of television to reach people in their homes, change their minds, and open their hearts."
Huang began turning out "a lot of scripts that no one read and were really bad at first." She kept writing, took classes, applied for various fellowship programs, submitted to competitions, and "just networked like crazy—all the things that you do to break into television and Hollywood." Eventually she was accepted into the CBS (now Paramount) Writer's Mentoring Program and was also awarded a CAPE (Coalition of Asian Pacifics in Entertainment) New Writers Fellowship. "Those were not only my training ground for the business but also my entry point into the opportunities that would lead to my first staff gig," she says, which came on the CBS (now Paramount Plus) hit series SEAL Team. "It was a long journey," she admits.
After more writing jobs on other series, she's now well established, currently a writer/producer on the new science fiction series Tom Swift, based on the classic series of kids' adventure novels and set to premiere on the CW on May 31. Tom's changed a bit since his original incarnation, in 1910, notes Huang: "We have a nearly all-Black cast, with the first ever Black gay lead of a TV show, and the actor is queer himself. We're going to be portraying a different kind of sci-fi action hero."
Coming from a small town in New York that, as Huang notes, "was a hundred percent Caucasian until my family arrived," she grew up "not really fitting in. The fact that I was a good student at the top of my class just made it that much worse." She found refuge in science fiction TV shows such as Star Trek: The Next Generation, Quantum Leap, and Doctor Who. "It was someplace where I saw people who were smart saving the day," she remembers.
If I survived those four years getting an education by a fire hose, I can certainly figure out how to write this network outline in a day...That's the kind of problem solving that a television writer/producer has to have.
She went to MIT, she says, because "I wanted to find my people"—smart folks who would understand and accept her natural nerdiness. "I went thinking I was going to be a chemical engineer, and I switched to Course 5, and then I discovered STS, Science, Technology, and Society. Talk about finding my home." After graduating, Huang also started acting in various student productions as an alum.
Eventually, Huang moved to Hollywood to pursue a career as an actor—not the usual story arc for an MIT student, but she felt her time at the Institute provided the perfect foundation for the rough-and-tumble of the television business. "If I survived those four years getting an education by a fire hose, I can certainly figure out how to write this network outline in a day, I can certainly figure out this story problem and cut a million dollars from a budget," she notes. "That's the kind of problem solving that a television writer/producer has to have, and I feel like that was born out of my time at MIT."
That same attitude informs this latest incarnation of Tom Swift, who also happens to be an MIT graduate. Given that the Tom Swift franchise has always been known for taking some liberties with strict scientific accuracy, she admits to some trepidation about how the show will be received by the MIT community.
"I really hope MIT students like it. I know they're gonna cringe that some of the things aren't completely accurate, but I hope they understand the spirit of making it entertaining for the masses. And still, at the same time, we're elevating a character whose heroism is based in science."
Huang will no doubt get to find out soon when she returns to the Institute this summer. "I'm on the planning committee for the 25th reunion of the Class of 1997. I really hope lots of classmates sign up to come back. This is the first in-person one after two years of having virtual reunions, so there are several events for which we're inviting classes of '96 and '95 to join us, because they didn't get to have in-person events [because of the pandemic]. So, this reunion is really gonna be a party."
It might be 3,000 miles between MIT and Hollywood, but Huang says she's really excited to come back, visit old haunts, "and, you know, see the world that made me"—the place where she "learned to think beyond my surroundings."
Are you celebrating a milestone reunion like Teresa Huang '97 is? Learn more about MIT Tech Reunions, May 27–29 on MIT's campus. 
Filed Under