"MIT will construct, at the heart of the campus, a new center for nanoscience and nanotechnology. An advanced facility open to the entire community of faculty, researchers, and students. A convening space to spark collaboration and cross-pollination. A hive for tinkering with atoms, one by one—and for constructing, from these fantastically small building blocks, a future of infinite possibility."
That was the promise that hovered over the former site of Building 12 when the construction of MIT.nano began in 2015—the vision that motivated the generosity of numerous MIT supporters who shared it. This summer, with construction substantially completed, the team behind the long-awaited facility will begin to move in its first tools. In the fall, MIT will celebrate the building's opening and students will attend class in the chemistry undergraduate teaching labs on its top floor. Philanthropic support will continue to be essential in enabling more than 2,000 researchers per year to use the facility to advance a range of fields, including health and life sciences, energy, computing, information technology, manufacturing, and quantum science.
As MIT.nano springs to life, Spectrum spoke with the facility's inaugural director, Vladimir Bulović, Fariborz Maseeh (1990) Professor of Emerging Technology.
MIT will construct, at the heart of the campus, a new center for nanoscience and nanotechnology.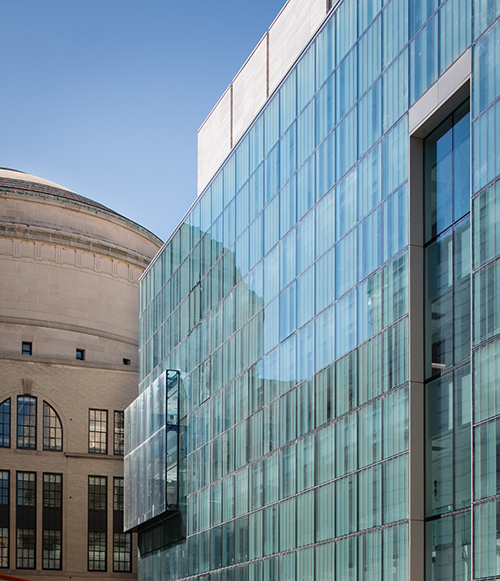 How will this new building advance the nano education, research, and innovation already thriving at MIT?
VB: Nano is not a specific technology but rather a revolutionary way of understanding and working with matter. Most of MIT's recently tenured science and engineering faculty advance their work through the understanding of nanoscale science and nanotechnology. They are building the future, and MIT.nano will assist them in any way needed. Researchers and innovators, as well as our partners, will share access to a broad and versatile tool set that can do more— imaging, synthesis, fabrication, prototyping—entirely within the facility's protective envelope.
This is also the beginning of a new era of nano education at MIT, with integrated hands-on learning spaces and advanced teaching tools. MIT.nano will support the work of both existing and emerging centers of nano research at MIT, such as the recently launched SENSE.nano that develops nano-enabled sensors and sensing systems. Such "centers of excellence" coalesce the intellectual pursuits of a set of faculty, providing a unifying voice that instructs MIT.nano on the instruments and facilities that would benefit those pursuits.
Filed Under