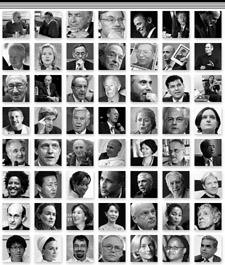 Foreign Policy
magazine named 100 people—including economists, politicians, writers, business leaders, philosophers, entrepreneurs, scholars, activists, and others—as
2010's Top Global Thinkers
. Not surprisingly, numerous members of the MIT community made the list. They are named below, along with their place in the order.
5) Federal Reserve Chairman Ben Bernanke PhD '79 was selected "for owning the U.S. economy, no matter what it takes."
25) Elder statesman George Shultz PhD '49 was chosen with three others "for showing that if wise men can give up on nukes, so can the rest of us."
26) Economists and professors (at Princeton and University of Chicago respectively) Paul Krugman PhD '77 and Raghuram Rajan PhD '91 were selected "for their spirited debate over the roots of the global financial meltdown." View an interview of Rajan with Reuters.
30) Economist and Columbia University Professor Joseph Stiglitz PhD '66 was selected "for his full-throated defense of fiscal stimulus." View an interview of Stiglitz with Reuters.
38) Economist and MIT Professor Esther Duflo PhD '99 was chosen "for putting hard numbers to a bleeding-heart pursuit."
48) Economist and Yale Professor Robert Shiller SM '68, PhD '72 was chosen "for bringing economics (and economists) down to earth." View an interview of Shiller with Reuters.
58) Founding member of MIT's Abdul Latif Jameel Poverty Action Lab and former MIT Economics Associate Professor Sendhil Mullainathan was selected "for bringing behavioral economics out of the ivory tower."
73) Economist and Harvard Professor Kenneth Rogoff PhD '80 was chosen "for seeing the financial future in the past."
76) Consultant Richard Clarke SM '79 was selected "for scary prescience about the great threat of our time—again."
88) Economist and MIT Professor Daron Acemoglu was chosen "for showing that freedom is about more than markets."
Filed Under