MIT Students Make Waves with Public Service Program
Filed Under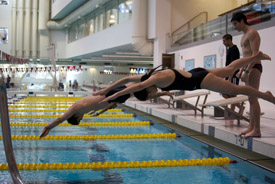 In the spring of 2010, MIT students started
Amphibious Achievement
, a dual athletic and academic mentorship program for high school students in the Boston-Cambridge area. Since that time, they have been impacting the lives of local teens with a mind-body approach to learning.
The program runs every Sunday morning from 9:00 a.m.–1:00 p.m. on MIT's campus. During the athletic portion of the program, MIT student volunteers coach the high school students, deemed Achievers, in either swimming or crew. Athletics are followed by a re-energizing lunch and then an academic portion in which the same MIT students tutor in critical reading, grammar, and math.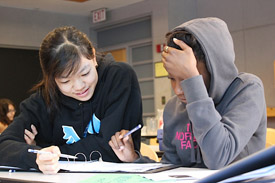 Amphibious Achievement also runs a resume-building and interview skills workshop for Achievers on Monday afternoons called Career Days. This semester, the program is further expanding to include study halls on MIT's campus to help students with their homework and to work individually with them throughout the week. Amphibious Achievement is provided free of charge to high school students; all funding comes from grants and donations, with some of its most substantial support from local businesses and donors.
Read how Amphibious Achievement is helping high school sophomore Valdwin Etienne prepare for college.
What is the program like from an MIT student's perspective? Keep reading to find out.
Guest blogger: Shilpa Agrawal '15
Swag has taken a completely new meaning. It is no longer just the short form of swagger, the confident strut that Soulja Boy made popular in his famous "Turn My Swag On." Now it's S.W.A.G.: Something We Achievers Got.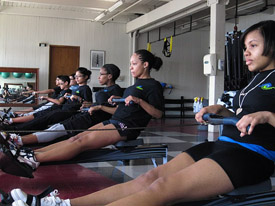 We have S.W.A.G. when we walk down Mass. Ave. belting our cheer (Everywhere we go-o…People wanna know-ow…Who we a-are…So we tell them…We are achievers! Amphibious Achievers!). S.W.A.G. when we are stepping in the middle of lobby 7 while the rest of MIT is asleep on Sunday mornings. S.W.A.G. when we balance a red cup on our forehead while doing backstroke down the Z-Center's pool. S.W.A.G when we pull out the ergs and row to "Lean with it, Rock with it." And finally, S.W.A.G. when we are munching on our Au Bon Pain pastries competing in Jeopardy or dissecting articles from the Economist.
This clever acronym was thought up by an achiever in my very own group and completed our team name, Beantown S.W.A.G. But the creativity doesn't stop there. Other groups take pride in their names such as the Amphibious Ballers, Team Vibe, and of course, resurrected from last year, T.G.I.S.: Thank God It's Sunday.
But why exactly are our achievers so grateful that Sunday has come? Perhaps it is because all our achievers are passionate students and athletes: they want to succeed inside and outside the classroom and further their set of skills to apply to their own life. Perhaps because they have questions that we can answer: for them, it's not just about accepting a way to go through prime factorization; it's about understanding why. Perhaps because this program was designed by students, for students. The level that I feel able to connect with these students is much greater than the connection I feel any adult tutor would be able to have.
Once anyone, tutor or achiever, steps into the program, they are inspired to learn from everyone around them—academically and even just about life. Although the students came up with the name T.G.I.S., truth is, we are all pretty grateful.
Filed Under