MIT Returns to NYC for Better World Event
Filed Under
For the second time in two years, the MIT community of alumni and friends in New York City gathered to celebrate the positive impact that the Institute is having in making a better world. Photo above: MIT alumni and friends in the Big Apple connect at 2018 MIT Better World (New York City), held at Broadway's PlayStation Theater.
Held at New York's PlayStation Theater, the Oct. 10 event offered the 400-plus attendees a chance to connect with their peers as well as to learn about the Institute's commitment to teaching, learning, and living—a major priority of the MIT Better World campaign.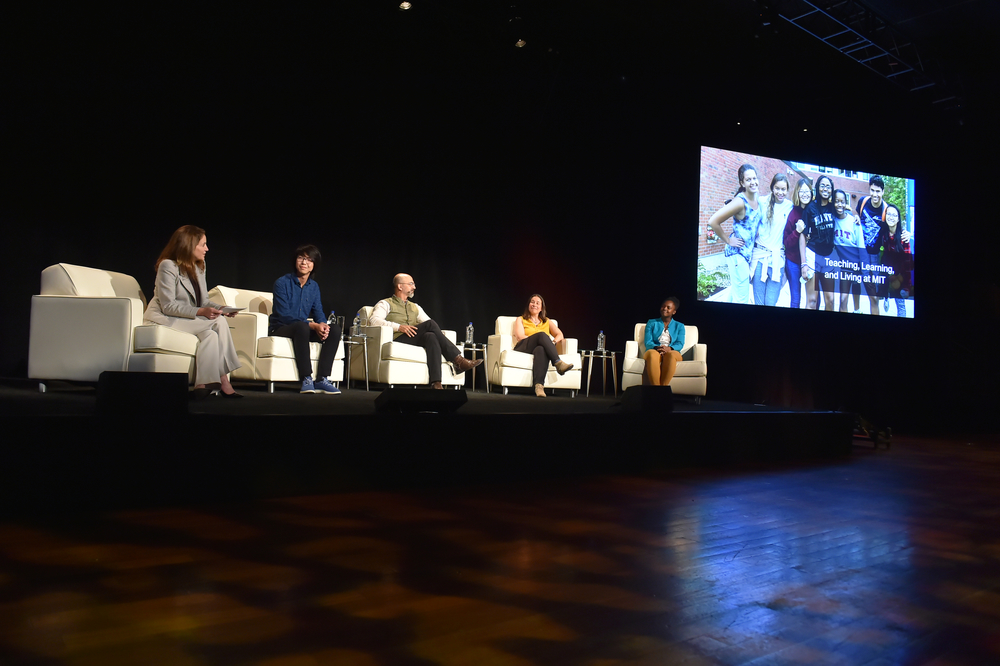 The Better World event featured a panel discussion on MIT's approach to education, on and off campus, led by MIT Chancellor Cynthia Barnhart SM '85, PhD '88, Ford Foundation Professor of Engineering. Panel participants included Edward Fan '20, x-terms students lead, Simmons Hall president, and First Year Experience core team member; John E. Fernández '85, MIT head of house at Baker House, director of the Institute's Environmental Solutions Initiative, and professor in the architecture department; Anette "Peko" Hosoi, associate dean of engineering, Neil and Jane Pappalardo Professor of Mechanical Engineering, and co-lead for New Engineering Education Transformation (NEET); and Candace Ross SM '18, PhD student in the Center for Brains, Mind, and Machines at MIT, graduate resident tutor at New House, and past president of the Black Graduate Student Association.
Guests also heard about their role in helping MIT's global commitment to addressing society's greatest challenges from MIT Provost Martin A. Schmidt SM '83, PhD '88, Ray and Maria Stata Professor of Electrical Engineering and Computer Science.
The evening kicked off with welcome remarks from MIT Club of New York President and New York Junior League Vice President Charlene Chuang '05, a former MIT Alumni Association Board director and current Alumni Association Selection Committee member, and one of the thousands of MIT alumni who call New York home.
Read on about others who are contributing their MIT talents and experience to all facets of community and life in the city.
Filed Under