Connecting Students and Alumni; STEM and Dance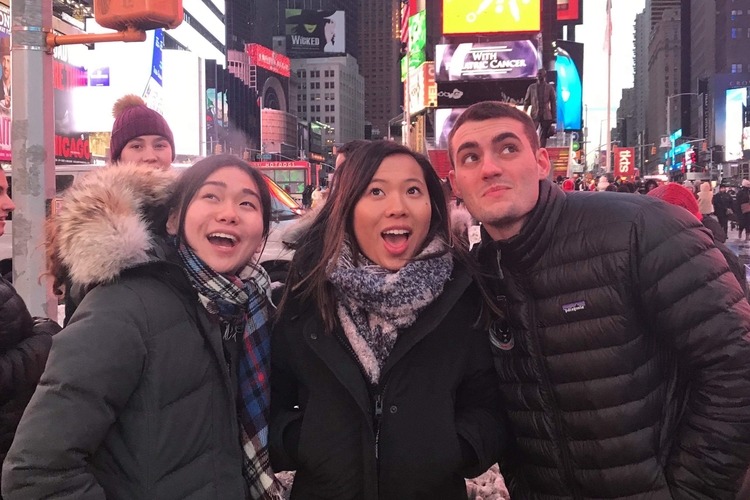 This IAP, more than 400 MIT students are working alongside alumni sponsors as part of the the Student/Alumni Externship Program. Priscilla King Gray Public Service Center (PKG) IAP Fellow Claudia Chen '20 is an extern at STEM From Dance in New York City, working with alumna Yamilee Toussaint '08 and sharing her experience on the PKG blog. 
Would you like to sponsor an extern? Submit your opportunity.
This post was originally published on the PKG Center Blog. 
This week is my first week working at STEM From Dance! I'm working in Manhattan, NY for the month of January, and although I've only been at work for a few days, I'm already really enjoying what I'm doing. I've also had a great time exploring New York City; the exciting nature of the city outweighs the cold weather here.
For those unfamiliar, STEM From Dance is an organization that introduces minority female students to science and engineering topics through dance. In practice, STEM From Dance operates as an outreach program in the New York City area that involves both dance workshops and STEM project workshops. The projects the students work on enhance their dance choreography, and the students get to showcase their newfound dance and computing skills at a final performance/showcase. Current projects that STEM From Dance students work on range from programming a background projection that goes along with their choreography to creating a costume with LEDs that they program to light up at specific times.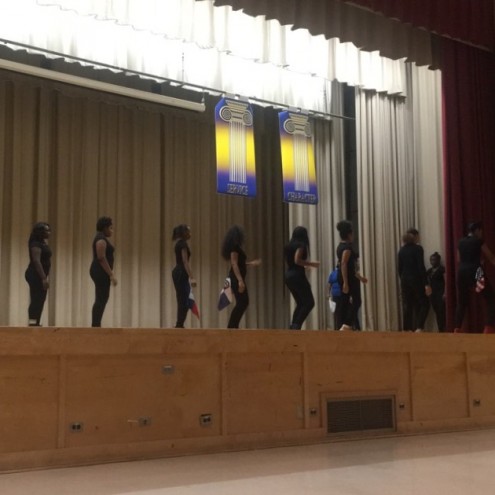 This month, I'm working on exploring and creating prototypes for new projects that future STEM From Dance students can work on. Because my project is very open ended, one challenge I see is trying to figure out explicitly what I want my prototype to achieve. My goal is to, at the end of the month, have a working project that future students will use.
After doing some brainstorming earlier this week, I decided that using physical touch as a trigger for auditory and/or visual changes on stage could be a new and engaging way to enhance stage performance. From this, I came up with an idea to use pressure as a trigger for playing some sort of sound.
I envision this on stage perhaps in the form factor of a glove, where if one dancer uses their hand to press down on their body, another dancer, or even the stage floor, then a sound effect is added to the music that is being danced to. More technically, I've started prototyping this by using a force-sensitive resistor (FSR) connected to a Bluetooth enabled microcontroller. Because of the material and geometry of the FSR, its resistance decreases as more pressure is applied. The voltage on the analog pin of the microcontroller then also changes, and I'm able to use this data to program certain events. Because the microcontroller is Bluetooth enabled, I can use it to transmit data to my computer; more specifically, I use the microcontroller to transmit Musical Instrument Digital Interface (MIDI) data to my laptop's GarageBand app to play different sound effects.
Here's a video of a very early stage prototype of this concept that I made on this morning. Right now the data that I'm transmitting to GarageBand is which specific notes should be played, and they are played when I apply pressure on the FSR.
One important detail I need to think about more is how much these musical gloves would actually enhance a dance performance. I find the idea of a human orchestra through gloves interesting, but so far corresponding piano notes would not really enhance a performance too much. So, I need to keep looking into how sound can be manipulated through MIDI data.
Outside of work, I've gotten the chance to explore the city a bit. I went to Brooklyn yesterday, which was a nice change of pace from Manhattan. Perhaps the most important thing I've learned about living in New York this week is how to use the subway system. I've learned that most of the time, if I simply look up (instead of at my phone trying to figure out Google Maps), it is extremely clear which train I should get on.
Continue reading about Chen's IAP experience at the PKG blog: http://mitpsc.mit.edu/blog/current-iap-18-claudia-chen-20/