Men's Basketball Ranked Number One, Open Season at Harvard on Nov. 9
Filed Under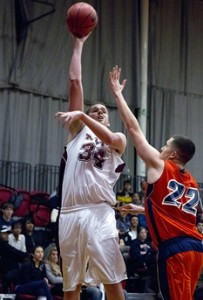 Last season's men's basketball team broke a school record for wins (29) and advanced to the Division III tournament's Sweet Sixteen, Elite Eight, and Final Four for the first time. The Engineers finished fourth nationally out of more than 300 teams, making an encore in 2012-2013 difficult.
But according to a preseason poll, this year's squad is poised to make more history.
In a nationwide vote held by d3hoops.com, the Engineers received 12 of a possible 25 first-place votes, ahead of Virginia Wesleyan and reigning champion University of Wisconsin-Whitewater.
If the Oct. 23 "Beaver Madness" rally is an indication, fans are fired up for Engineers hoops. The season begins Friday, Nov. 9 with a preseason battle versus Harvard. Held at Harvard's Lavietes Pavilion, MIT fans are encouraged to purchase tickets in advance and sit in MIT's unofficial fan section: sections 2 and 3, directly behind the Engineers' bench.
Immediately following the game, the MIT community is invited to a postgame reception at Harvard's Murr Hall. Sponsored by the Alumni Association, the reception will include a cash bar, light snacks, and a visit from this year's team. RSVP for the reception.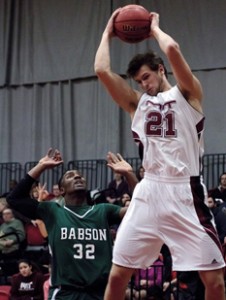 The Engineers return a quartet of seniors from last year's team: center Noel Hollingworth (17.2 points per game); guard Mitchell Kates (14.2 points per game); forward Will Tashman (9.6 rebounds per game); and guard Jamie Karraker (MIT-record 111 3-point baskets).
Head Coach and 2012 NEWMAC Coach of the Year Larry Anderson is back for an 18th season. His staff includes Indran Ratnathicam '98 and Billy Johnson '10. (Check out a Slice post on Johnson's professional basketball career.)
The Division I Crimson return 10 players from the team that played in the NCAA tournament and was ranked as high as 21 nationally. The Nov. 9 game will be MIT and Harvard's fourth consecutive annual meeting—Harvard won last year, 76-49—which includes a memorable 2009 game that featured Harvard alum and current NBA player Jeremy Lin.
The Engineers open the regular season on Nov. 15 at Lesley University, and host Emmanuel College in their first home game on Nov. 20. Check out the DAPER website for more team, schedule, and MIT Athletics information.
The Alumni Association hopes to see you at the game and reception on Nov. 9!
Filed Under