Less Is More, Says Engineer Designing Modern-Day Typewriters
Filed Under
Adam Leeb '07 is not a writer, but he's devoted a lot of the past decade to improving the writing process. For him, it's about designing products to increase focus and productivity, which is exactly what the modern-day typewriters created by Astrohaus do, he says.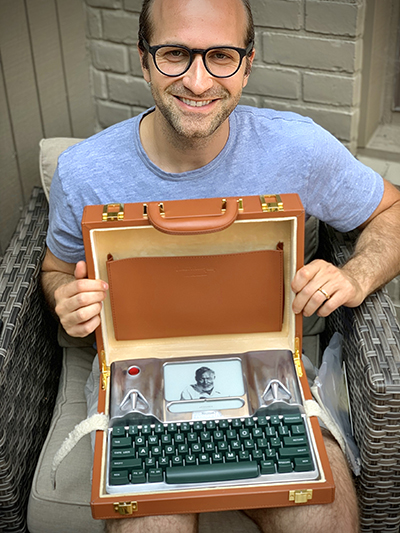 Leeb graduated from MIT with a degree in mechanical engineering and an interest in entrepreneurship and product design, thanks to business courses he took through MIT Sloan as a senior. He felt like he'd finally figured out how to optimize his skills and interests—only he couldn't get a job.
He reached out to fellow alumni working in product design, to no avail. "I got interesting but sad feedback," he recalls. "Basically, all of them said, 'We're only recruiting people who have a master's or above or have done an internship,' and I didn't have either of those."
Instead, he ended up in finance in New York City for a few years before trying his hand at starting a business. When his vitamin company "stalled out," he decided to pursue a project with a friend and fellow entrepreneur (future Astrohaus cofounder Patrick Paul). "He was telling me about a software that he had used to do some writing, just for fun. I started learning about all this distraction-free writing software and I was like, 'Why isn't there a dedicated device that can do this?'"
The pair didn't set out to start a business, he says, but when they posted a rendering of their idea online—initially named the Hemingwrite as a nod to the famous American author—it went viral. "You could go on Twitter and just type in 'Hemingwrite' and see a constant stream of conversation, and we hadn't even launched anything. It was just a concept, an image with a tagline. I think it was just so provocative that people were excited about it."
Comments were both positive and negative, he recalls, "mostly positive, but we certainly had some people saying things like, 'This is the end of humans being able to enhance their concentration, and civilization is going down as we know it. We have to buy things to help us focus,' which I really enjoyed. I said "Well, all these people are interested in it. Let's just do a Kickstarter and see what happens."
After a successful campaign in 2014 through global crowdfunding platform Kickstarter, Leeb and Paul set about creating a prototype for the product that could combine the best features of all previous writing tools, with the addition of modern technology. What they ended up with is a digital typewriter, which includes a full-size keyboard, an E Ink display, and Wi-Fi, which enables automatic saving via cloud storage.
The company has since launched a few versions of the device—the Freewrite (the original device), the Freewrite Traveler, and three special-edition Freewrites—and sold tens of thousands of the writing tools to more than 50 countries worldwide. The devices, which range in cost from $449 to $599, are not intended for the average person, Leeb explains. They are specifically designed for creative writers in the drafting phase—a process that is about writing without pause—and are unencumbered by the thousands of other tasks a computer can be used for, including email, Slack messages, or searching the internet. The intention is to focus solely on writing, with editing to come later using a regular laptop.
"When you're in this drafting process, it's really about quantity over quality. This [strategy] is not something that we created, of course; it's something that is taught in MFA programs and is well documented," explains Leeb. "People have shared that [the Freewrite] drastically improves their writing productivity, which was always the goal—we've had people say it doubles their word counts."
Unlike many modern-day products, the Freewrite and its successors are a lot more interesting because of the features they don't have, rather than the features they do have, he says—and that was always the point. "We got so much feedback [after the initial Kickstarter campaign] saying, 'Why don't you add a spellchecker? Why don't you make it so you can print? Why don't you add a bigger screen?' Basically, every single thing that people wanted, if we put all those in there, this product just would've become the worst laptop of all time."
Leeb, who runs Astrohaus from his hometown of Detroit, says the company has more devices on the horizon, with the common theme of limiting distractions. "We're looking to become the go-to productivity company and to really think about how technology interacts with, and can actually enhance, our productivity."
---
Photos courtesy of Astrohaus. 
Filed Under