IAP Externships: Students Aid Microelectronics Problem-Solving
Filed Under
This is part of a series of posts from MIT students and alumni who are involved in the
Student/Alumni Externship Program
, which connects current students to alumni in workplaces worldwide during MIT's Independent Activities Period.
Alumni, learn how to get involved
.
Guest blogger: Richard Otte '61, SM '64, president and CEO, Promex Industries Inc., a microelectronics assembly service provider Externs: Grant Iwamoto '13 and Rachel Luo '14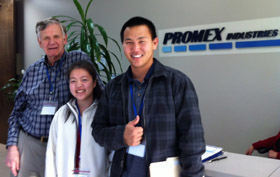 Introduction
Santa Clara, California-based Promex had two externs for a month in 2011 and now has two more externs in 2012.
The 2011 Externs
Our 2011 experience was the first with undergraduate externs; that worked out well for us.  The externs worked together to solve a problem we had in a process for fabricating parts.  The parts are a family of semiconductor packages that range in size from 12 mm x 12 mm x 1 mm to 2 mm x 2 mm x 1 mm.  The problem was contamination of surfaces during a molding process.
The job for the externs was to find a solution to this problem that we could implement in our manufacturing process.  Several of our engineers who were familiar with the problem, the process, and some potential solutions worked with the externs and met with them several times a week.  The result was that the externs made an important finding that became the foundation of a simple but robust process that we implemented and continue using.
The 2012 Externs
The 2012 externs are working on separate projects.  Grant Iwamoto '13 is characterizing the performance of a class of parts we manufacture using standard industry tests.  This requires developing a test plan, acquiring, assembling, and evaluating the parts at multiple stages using various methods including microscopy, and writing a report for our website for use by customers interested in these performance parameters.  At the same time, this extern is looking for the root cause of a failure in this type of part.
Rachel Luo '14 is working with one of our engineers who is involved with the MIT Communications Technology Roadmap (CTR).  The objective is to develop materials for a report for the CTR.  This effort involves conceiving of and evaluating potential methods of optical transport of data from one point to another, particularly onto and off of semiconductor chips.  We want to define a sequence of structures of increasing capacity to support the growing data rates required by evolving semiconductor devices and then quantify this performance.  The result will be a slide deck for submission to the CTR for potential inclusion in their reports.
Filed Under