IAP Externships: Radiation Oncology at Mount Auburn Hospital
Filed Under
This is part of a series of posts from MIT students and alumni who are involved in the
Student/Alumni Externship Program
, which connects current students to alumni in workplaces worldwide during MIT's Independent Activities Period.
Alumni, learn how to get involved
.
Guest blogger: Dr. Tony Abner '77, Chief, Radiation Oncology, Mount Auburn Hospital, Cambridge, MA Externs: Tiffany Chen '12 and Jennifer Hope '12
Items for discussion, Jan. 11, 2012
—The differences in spoken Portuguese between natives of Brazil, Portugal, the Azores, and Cape Verde Islands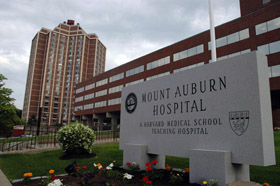 —Where the Cape Verde Islands are located
—Where Cambridge Hospital is located
—Massachusetts state laws regarding coverage of fertility services in women but how the law does not apparently apply in selected cases
—The issue of crossing state lines for insurance coverage, or how would a policy written in Arizona apply in Massachusetts?
—Risk factors for anal cancer
—Disposal of radioactive waste, or, "Let it decay on the shelf of a locked room"
—The formation of the Atomic Energy Commission, the Nuclear Regulatory Commission, and the Food and Drug Administration; how they overlap and how Massachusetts is an "Agreement State" when it comes to compliance with federal regulations; how we all hate regulations but prefer having them instead of the alternative
—Highlights of the 2011 San Antonio Breast Conference, with emphasis on new drugs targeting the Her2 receptor
—Screening for prostate cancer and the ethics of a randomized clinical trial where the "control group" is not really a control, resulting in a study that is clinically meaningless
—Electron dosimetry
It has been a moderately busy day for Tiffany and Jennifer as they see what the life of a practicing physician is like. In between discussing journal articles, statistics, medical economics, and politics we have been seeing a few patients, inserting probes and treatment devices, and contouring on CT scans. As usual, I am amazed at today's students.
You left Southern California to come here?
I said. Not only did they trade sunshine for snow but are leaving a nice warm bed to get here early in the morning. I am flattered.
Filed Under