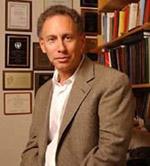 Is there anything Institute Professor Robert Langer ScD '74 can't do with his scientific magic?
He pioneered tissue engineering and drug delivery through the skin without needles. He's got 800 issued and pending patents worldwide and patents licensed or sublicensed to over 250 pharmaceutical, chemical, biotechnology, and medical-device companies. He's also won more than 210 major science and tech awards—pretty much everything except the Nobel (see partial list below). And, he eliminated the bad hair day with a line of hair-care products called Living Proof.
Don't believe it? Well, talk to actress Jennifer Aniston.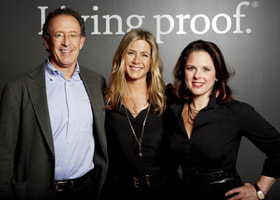 She's so enthralled she recently become a co-owner of the company cofounded in 2004 by Langer along with Jon Flint and Amir Nashat ScD '03 of Polaris Venture Partners.
Living Proof invents and patents "new molecules that completely change how hair behaves." The Living Proof website attributes its success to two major breakthroughs: OFPMA (octafluoropentyl methacrylate) and PBAE [Polyalkylaminoester-1 (Poly Beta Amino Ester-1)].
The OFPMA molecule creates a thin, invisible shield around every strand of hair, fighting off frizz and humidity, repelling dirt and oil, and making hair healthier. PBAE is a volumizer that creates a flexible, microscopic pattern of thickening dots on every hair strand that transforms fine, flat hair. In other words, whether you want to hold, extend, repair, or boost volume in a style, Living Proof has a scientifically superior way to do it. The products have won awards and accolades from numerous beauty magazines. Learn more about the science in this 2009 Boston Globe article.
In her role as co-owner, Aniston will also serve as spokesperson and work on brand development and creative marketing direction as well as collaborate on new hair-care product ideas.
"Over the years, my hair has been subjected to everything...blow dryers, flatirons, curling irons, color, extensions, you name it. After using these products, I felt like I finally discovered a solution that works every day." —Jennifer Aniston
Take a look at video from the
Wall Street Journal
talking about the collaboration and showing Aniston at the labs.
Langer's awards include the 2006 US National Medal of Science; the Charles Stark Draper Prize, considered the equivalent of the Nobel Prize for engineers; the 2008 Millennium Prize, the world's largest technology prize; and the 2012 Priestley Medal, the highest award of the American Chemical Society. He's also the youngest person ever elected into all three National Academies (science, engineering, and medicine).
Filed Under