Fraternity Party Posters Lead to Design Career
Filed Under
What do self-cleaning litter boxes have in common with toothbrush testers and rolls of menstrual pads? All are commercial products that sprung from the mind and hand of industrial designer Tom "Ted" Devlin '87.
Devlin has spent decades combining his skills for invention, design, and engineering to create products for a diverse catalog of clients, including such big-name brands as Gillette, Oral-B, and Stanley Tools. In 2017, his automatic dog potty was pitched as a product on the "Shark Tank" TV show. And in 2020, a nasal mister he worked on was honored by Time magazine as one of the best inventions of the year. 
It was obvious that I'd rather draw posters all night than do a problem set.
The key to his success, Devlin says, is an abiding interest in how things work. "When students ask how to get into this field, I say, take apart everything you have," he says. "In the process, you learn how everything works."
A mechanical engineering major at MIT, Devlin discovered his passion for art while making party posters for Delta Kappa Epsilon—first as social director and then as president of the fraternity, which he today serves as alumni house manager. "It was obvious that I'd rather draw posters all night than do a problem set," Devlin says.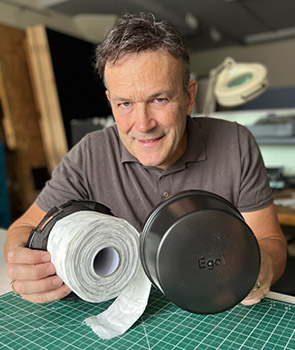 After MIT, Devlin followed his passion to the Royal College of Art in London, where his graduate thesis design for a motorized lighting system piqued the interest of a local company. "That's the dream—to invent something someone wants," he says. 
For eight months, he worked as a consultant to get that system into production. Then he took a job at Product Genesis, a Massachusetts product development firm spun out of the MIT Innovation Center. Hired as industrial designer, he found his engineering skills in great demand: soon he was managing a 10-person team that created one of the first 3-D printers for office use.
"I was successful, so I knew I was doomed. I'd be an engineering manager forever," he says. Since he wanted to focus on design, Devlin left Product Genesis and in 1994 founded Devlin Design.
Consulting work has given Devlin the freedom to design a range of products for clients while also pursuing his own business opportunities. In 1996, he founded BruxCare, which made a device designed to prevent teeth grinding. In 2003, he founded Loto Lighting, which develops motorized light fixtures. And, in 2021, he launched Egal, which sells menstrual pads dispensed on a roll, like toilet paper.
This latest venture was inspired by a 2019 article by Devlin's wife, Boston Globe reporter Stephanie Ebbert, who wrote about activists' efforts to make menstrual products broadly and freely available. "Something I think no men realize and a lot of women don't realize is that kids are missing school. They get their period and don't know what to do; they can't get access to products. It's a big problem," Devlin says. 
Designed for use in schools, offices, and other public spaces, Egal pads come in one continuous roll that fits on a standard toilet paper holder. Users can simply tear pads off as the need arises. Devlin got the company up and running with some guidance from MIT's Venture Mentoring Service, and Egal is now shipping its first million rolls, many of which will be available in schools around New England. 
"Remember when you had a bias and didn't understand something and suddenly it becomes common and you realize, why didn't I think of this? This is one where every man in the US does not understand this problem," Devlin says. Many assume women should carry what they need with them, he says, but he thinks that attitude is misguided. "That's not right. You're not carrying toilet paper," he says.
Filed Under