Money is a little easier to get for entrepreneurial students these days—from other entrepreneurial students. An MIT student startup, Refresh Water Technologies, is the first team funded by
Dorm Room Fund (DRF) Boston
, an investment fund managed by local college students for Philadelphia-based First Round Capital.
MBA student Akanksha Midha, one of three MIT students on the 11-person DRF Boston team, recommended Refresh, which makes environmentally friendly vending machines. Midha was just doing her job when she scouted out fellow students for the $20,000 grants. DRF Boston has half a million dollars to give away at the moment.
Can your startup get funded this way? Here's some advice from Midha:
What's your criteria for recommending a startup to the Boston Dorm Room Fund?
At DRF Boston, we want to find the best ideas with great teams behind them. We look for startups looking to solve pressing problems through compelling solutions. While the product and market are important, ultimately we are looking for great teams with a fire in their belly and a balanced mix of skills. We also look at the needs of the company and how much the DRF investment of $20k can move the needle for them. Refresh Water, an MIT Sloan startup, is our first investee in Boston. They embody all of the factors we look for—a large market, an innovative product with the ability to significantly cut the costs and carbon footprint of vending water, and a fantastic team of Sloanies and a RISD designer with complementary skills. Here is a blog post about the investment.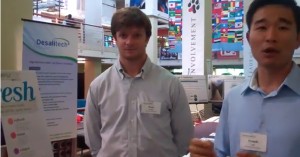 How did you get involved in the Boston Dorm Room Fund?
Through my time as a joint degree student at MIT Sloan and the Harvard Kennedy School, I became interested in the idea of entrepreneurship as an engine of economic growth. Last summer I ran a mobile technology incubator as part of MIT's Global Startup Labs Program and was frustrated by the number of exceptional students who were unable to commercialize their ideas due to the paucity of founder-friendly seed capital. Funding options often have high transactional costs and demanding investors. I was drawn to the mission of Dorm Room Fund because it bridges this gap between an idea and a product. It provides student entrepreneurs the financial and mentoring resources they need to validate their ideas and getting them off the ground. DRF provides great ideas a shot in the arm instead of letting them die a premature death at the dorm room stage. And the best part is that DRF investments are on extremely founder-friendly terms.
And what's next for Midha?
I am interested in business innovation and international development, which have informed my educational choices. Along with a team from MIT and Harvard, I founded Mentor Me India, a mentoring non-profit for girls from underprivileged backgrounds in India and raised $500k of funding for MIT Global Startup Labs in Sri Lanka to keep the program running. On graduation, I will be joining McKinsey and Company where I hope to advance my business skills training and work on social and public sector consulting projects.
Bonus: Read a DRF blog post by Dropbox founder Drew Houston '05: "How to Win as a First-Time Founder, a Drew Houston Manifesto."
Filed Under