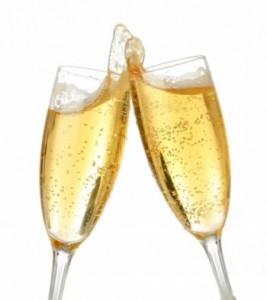 The grand finale of MIT's sesquicentennial celebration is just around the corner (
Saturday, June 4
), but there's one item that's still pending:
The toast.
Members of the MIT community are invited to write an original toast that honors the Institute's 150th anniversary and embodies the true spirit of MIT. We're looking for funny toasts, poignant toasts, geeky toasts; any toast that captures the quiddity of campus--in 50 words or less.
Submissions will be read by a distinguished panel of MITers, which will include Pulitzer Prize winners Junot Diaz and John Harbison, Professor and STS Director David Mindell PhD '96, President Emeritus Paul Gray '54, SM '55, SCD '60, and retired New York Times journalist Karen Arenson '70.
The panelists will select the top five toasts, and the winning words will be read at the Toast to Tech celebration. The four runner-up toasts will be displayed at the event. Each of the top five toast writers will receive a prize.
To enter, head over to the Infinite Connection and fill out the form. Deadline is midnight on May 22. May the best toast win!
Filed Under