From City to City, MIT Better World Connects Alumni and Ideas
Filed Under
In New York City, they filled a theater in Times Square to hear how MIT is evolving to provide its students with the best educational experience in and out of the classroom. They converged on hotel spaces in San Francisco and Palo Alto, Los Angeles and San Diego to discuss the science of teaching and learning, as well as ways researchers are meeting environmental challenges. Over the course of the past academic year, MIT alumni and friends have turned out in each of these locations—not just for insights into how the MIT community is making a better world, but to see each other and to reconnect with a global network that thrives on the lively exchange of ideas.
While those gatherings have passed, the ideas live on. A new playlist of videos recaps the programming from these and other MIT Better World events held since 2018. Among the moments recorded: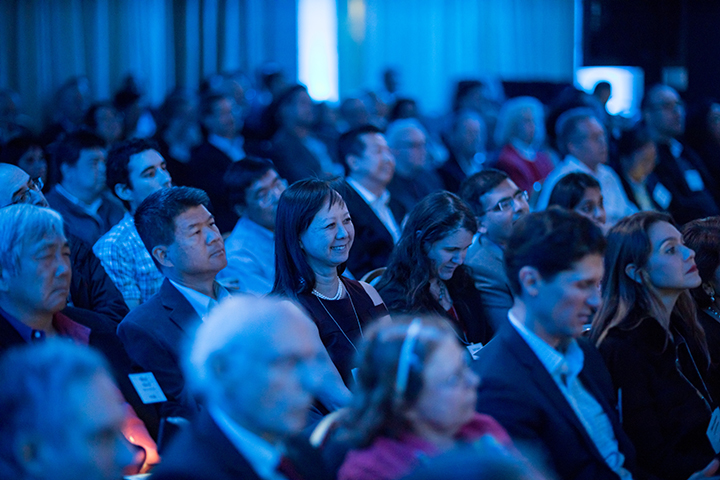 As the MIT Campaign for a Better World continues, so does its tour of cities. In Atlanta on October 18, a panel will share how MIT is pioneering new insights into the social implications of AI. The speakers will include Hope M. Barrett '98, director of Audience Intelligence at CNN and a member of the MIT Alumni Association Board of Directors; Thomas W. Malone, Patrick J. McGovern Professor of Management and founding director of the MIT Center for Collective Intelligence; Melissa Nobles, Kenan Sahin Dean of the School of Humanities, Arts, and Social Sciences and professor of political science; Harini Suresh '16, MEng '17, a PhD student in the MIT Computer Science and Artificial Intelligence Lab; and Maria Zuber, vice president for research and E. A. Griswold Professor of Geophysics.
Zuber will also appear in London, on November 8, to continue conversations around environment and sustainability. Joining her will be panelists Alpha Yacob Arsano SM '17, a PhD candidate in architecture and researcher at the MIT Sustainable Design Lab; and Jason Jay PhD '10, MIT Sloan senior lecturer and director of the MIT Sloan Sustainability Initiative.
In 2020, alumni in the Westchester, New York, and Fairfield, Connecticut, areas will convene to talk innovation and entrepreneurship on February 27, and the Toronto community will gather for a science-themed discussion on April 29. Additional topics and locations will be announced in the coming months. 
Learn more about MIT Better World events and how to register to attend.
Filed Under