A Look Back: Who Spoke at Your MIT Commencement?
Filed Under
Admiral William H. McRaven, a retired U.S. Navy four-star admiral and the former chancellor of the University of Texas system, will deliver the address at MIT's 2020 Commencement exercises on Friday, May 29. McRaven is the Institute's 115th Commencement speaker dating back to 1880, the earliest year that MIT Commencement records exist at MIT's Institute Archives and Special Collections.
You can watch a live captioned webcast of Commencement beginning Friday at 1:00 p.m. at commencement.mit.edu/webcast. The program is one part of the day-long online celebration honoring all 2020 Institute graduates.
McRaven is a recognized authority on U.S. foreign policy who advised presidents George W. Bush and Barack Obama on defense issues and served as chancellor of the University of Texas system from 2015–2018. He is part of a group of non–MIT alumni Commencement speakers that includes three-term New York mayor Michael Bloomberg; Facebook COO Sheryl Sandberg; Apple CEO Tim Cook; President Bill Clinton; and Vice President Al Gore. View the full list of guest speakers at MIT Commencement through the years.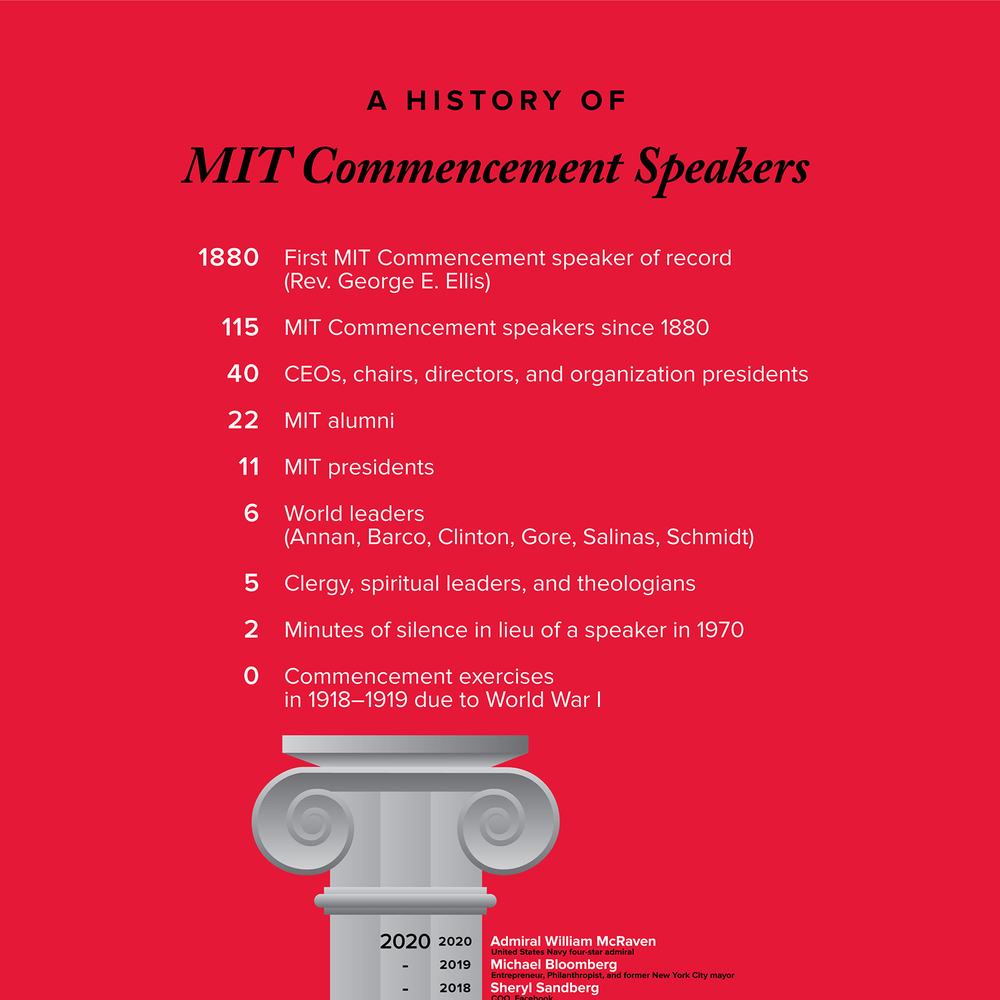 The list of MT alumni/ae who have delivered an MIT Commencement address includes former United States chief technology officer Megan Smith '86, SM '88; Khan Academy founder Salman Khan '98; former Federal Reserve chair Ben Bernanke PhD '79; and Car Talk radio show hosts Ray Magliozzi '72 and Tom Magliozzi '58.
Due to the Covid-19 pandemic, McRaven will be the first Commencement speaker to address graduates remotely and 2020 will mark the first year that the Institute will not hold in person Commencement exercises since 1919.
Before this, perhaps the most notable event in MIT's Commencement speaker history occurred when there was no speaker. In 1970, during the peak of the U.S. involvement in the Vietnam War, the graduating class requested that then MIT President Howard Wesley Johnson HM '66 refrain from speaking in lieu of two minutes of silence to consider what can be done "to help resolve the conflicts which divide mankind in this country and around the world."
The most frequent MIT Commencement speaker? Francis A. Walker, MIT's third president, who was the guest speaker 11 times between 1883-1896.
The first half of the 20th century often featured more than one Commencement per year. Separate ceremonies, featuring different guest speakers, were held for graduate and undergraduate students in the '40s, and traditional students and military students often had separate ceremonies in the '20s and '30s. The 25 most recent speakers are listed below. And view the full list of speakers, which dates to Unitarian clergyman George E. Ellis, who addressed MIT graduates in 1880.
This is an updated version of a story originally published on June 5, 2014.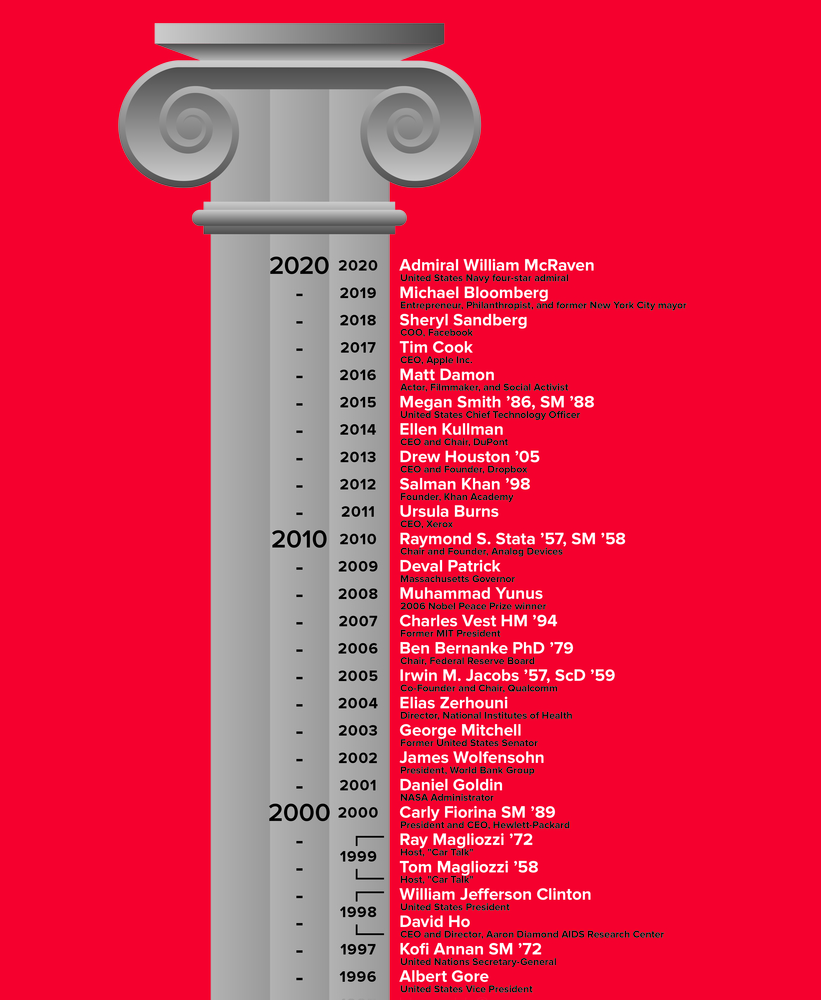 Filed Under