BCAP Fund Supports MIT Student Projects in Communities of Color
Filed Under
Each year, thousands of MIT alumni, students, parents, and friends unite on one day for an important reason: supporting the MIT community's commitment to solving the world's greatest challenges through education, research, and innovation. Join us this year on March 12, 2020, for the MIT 24-Hour Challenge.
---
The 50th-anniversary celebration of the founding of the Black Student Union was the largest gathering of black alumni in MIT's history. That Capstone Weekend event, hosted by Black Alumni of MIT (BAMIT), had as its theme "The Power of Community," and explored how this particular alumni community could address the challenge to transform society and make a better world.
One outcome of those conversations—established through the fundraising efforts of BAMIT volunteers—was the BCAP (BAMIT Community Advancement Program) Fund. Each year, the fund will support at least one MIT undergraduate and/or graduate student in the pursuit of a proposed project, advised by an MIT alumnus/a mentor, that addresses a specific challenge in an underserved community of color. During MIT's Independent Activities Period in January, the first two BCAP fellows, Danielle Geathers '22 and graduate student Melissa Isidor, kicked off their projects.
The Office of Minority Education (OME) is the fund's administrator and manages recruitment for the program in conjunction with the Office of Graduate Education's Office of Diversity Initiatives and the Priscilla King Gray Public Service Center. "One of the things I love most about MIT students is that the reason they work so hard is in large part due to their strong desire to make a better world, particularly in their own communities," says DiOnetta Jones Crayton, associate dean and director of OME. "There's an activist spirit among MIT students that drives them to solve problems; it's personal for them. BCAP funding is a way to support them so that they can focus on the communities they care about so passionately."
Mechanical engineering student Geathers, this year's undergraduate recipient of BCAP funding, conceived her project during research for a gender studies class. Reviewing data about MIT's increased numbers of female admitted and matriculated students, she noticed that African-American female students remain significantly underrepresented in the applicant pools.
"Having gone to an independent school, I had access to an experienced college counselor who had the time to work with me. My mother went to college and law school. Plus I was an athlete, recruited by the MIT soccer coach," says Geathers, a Miami native. "A lot of young African American girls don't have one of those factors, let alone all three, helping them apply to top-tier colleges and universities."
Geathers designed her Talented Ten program to target high school juniors in southern states. (According to the US Census Bureau, the majority of non-Hispanic African Americans still live in the Deep South.) Out of 174 applicants who wrote short essays for the program about why they wanted to participate, 10 will visit MIT's campus at no cost to them or their families. They will learn about the admissions process—test taking, references, writing a personal essay, applying for financial aid, etc.—as well as tour the campus and sit in on a few classes.
Geathers's mentor for the project is chemical engineering alumna Stephanie Espy '01, who is founder and CEO of MathSP in Atlanta, a provider of STEM academic and test preparation coaching for secondary school students. Espy acted as a sounding board regarding the selection process of the 10 young women, assisted with publicizing the opportunity, and offered support and encouragement.
"Since I'm graduating in a couple of years, I'm trying to impact the lives of people that I may not even get to see or that may not even go to MIT," said Geathers. "Still, I know that over the course of the program"—which, following the campus visit, provides mentoring throughout the college application process—"our team will make a difference. The results of this project are future oriented, and that makes it really exciting."
At the grad student level, Isidor is using the BCAP funding for an ongoing project called A Voice at the Table, through which she is exploring the importance of community spaces where "all who identify as Black womxn" (terminology used to be inclusive of a spectrum of gender identities such as woman, nonbinary, and trans) "can feel safe both physically and emotionally."  
As she pursues her master's in city planning, Isidor has been questioning the physical design of community spaces as well as the intangible, ephemeral qualities of space through the lenses of planning and design. Her project research has been centered in Roxbury, Massachusetts, and investigates how people access space and how designers prioritize aesthetics, use, and costs. "One way Black and Brown people are marginalized in terms of space is the lack of flexible and multipurpose spaces which can serve a variety of communal needs," she explains. "Further, given the historical policies of redlining and discrimination in mortgage financing, which have made property ownership and wealth building difficult, there are extensive structural inequities that are difficult to overcome. Roxbury is a clear example of this." (For multiple decades, primarily the 1930s through the late 1960s, lenders used maps with red lines around the Roxbury, Dorchester, and Mattapan neighborhoods, showing areas where housing loans weren't offered—or if they were, at significantly higher rates than those in other areas of Boston.)
Michael G. Johnson MCP '97—a former vice president with JPMorgan Chase who recently joined nonprofit real estate developer The Community Builders—served as Isidor's BCAP mentor. He, too, acted as a sounding board. "Now that the project is largely developed, and I have the data," says Isidor, "he really helped me articulate what I'm trying to do in order to share this information with a broader audience."
During IAP, Isidor worked on a website she launched this month for community organizers, community members, and designers and planners. It incorporates the photography, mapping, illustrations, and ethnographic research she has been collecting in order to facilitate the creation of authentic, affirming spaces that promote resilience and creativity.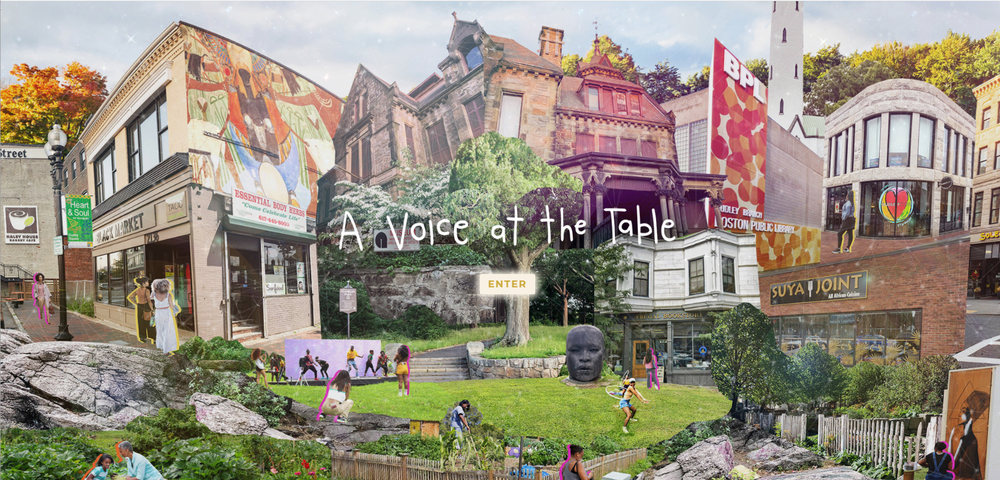 For both Geathers and Isidor, these efforts are only a beginning. Geathers explains, "While I proposed the project, I've had a lot of people help me read and score the applications." Classmates have also volunteered to partner with the high school students who come to campus, she says. "I intend to keep Talented Ten going not only while I'm on campus, but also by passing it on once I graduate." Similarly, Isidor points out, "The beauty of this platform is that it's easy to keep it updated as I collect data on other neighborhoods and spaces."  
BCAP is now accepting a new round of applications for summer BCAP projects. "The brightest minds come to MIT," says OME director Crayton. "The BCAP program not only works to make a better world, it also allows these students to have a broader, deeper, and richer student experience."
---
Learn how you can support future BCAP fellows and many more members of the MIT community on March 12, 2020, during the MIT 24-Hour Challenge.
Photos: Allegra Boverman 
Filed Under