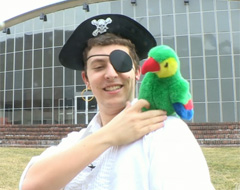 An underground novelty has surfaced into official MIT culture. Although student pirates have existed informally for some 20 years, the Department of Athletics, Physical Education, and Recreation (DAPER) has issued the first pirate certificates to six students who have completed the requirements. The arrrrr, arrrrr, arrrrr'ing must have been heard across the river because the Boston Globe just covered the news with an article and a video.
What are the requirements? Students must complete four physical education courses: pistol, archery, sailing, and fencing. There is also rumor of a secret oath.
Sophomore Jacob Hurwitz, featured in the video, says pirate lore fits nicely into MIT's campus culture.
"In geek culture, there is a big pirates vs. ninjas war," Hurwitz says. "I'm on the pirates side. I think pirates do a lot more. They do sword fighting, sailing, collecting treasure. All ninjas do is hide."
And what do the students receive? The certificates, authorized by the "swashbuckling" Institute, are printed on faux parchment and affirm that the named "salty dog'' is entitled to a pirate certificate "with all its privileges and obligations thereof." And surely they celebrate Talk Like a Pirate Day on September 19.
Don't expect to see these newly hatched pirates commandeering boats up and down the Charles River. The certificate limits actual pirating to "entertainment purposes only."
Filed Under