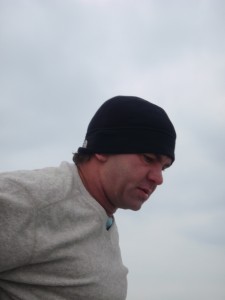 For more than two decades, alumnus Davis Lee PhD '03 dreamed of swimming across the English Channel, and on Tuesday, September 28, he did! According to a post on his blog, Sharky Treat, Lee swam from Dover, England to Calais, France--a distance of more than 20 miles--in 12 hours and 41 minutes. He is one of fewer than 1000 people to ever successfully complete the swim.
Feedback from Lee, a 35-year old nuclear physicist from Newburyport, trickled in slowly after his swim. His wife, Kate, commented on his blog as soon as he finished, writing, "He's cold and tired and, I'm assuming, very happy to have accomplished this incredible feat." A couple days passed before Lee himself did some blogging, and even then it seemed to be with some reserve. On September 30 he wrote a post describing his pre-swim pasta dinner, 1 a.m. departure, and segments of his journey--and what came through in his writing through was just how challenging it was, particularly the cold.
"Cold, I walked to the rail of the boat, stepped over the life line, and plunged feet first into the water," Lee wrote of the start of his swim. "It was cold... I was not totally comfortable with the prospect of 5 hours of cold, night swimming." And then eight hours later: "The French coast comes into view after about 8 hours (by justin at dress head). The sea was still choppy, tough to swim in and still quite cold." Finally, describing the end of his journey, Lee wrote: "We made it, it was long, very cold and often lonely. Did I mention it was really cold?"
Lee's brother, Tim, coach Andrew Soracco, and hired pilot Lance Oram accompanied Lee on a nearby boat during his swim. His wife, Kate, is seven months pregnant, so she and their son Oliver waited for Lee on the Dover side. Below is a photo of the family taken some 15 hours after Lee's initial plunge:
Read more: Pursuing Dream, Alumnus Braves Frigid Waters, Pre-Dawn Training
Filed Under